Back to top
News
From Client to AmeriCorps Member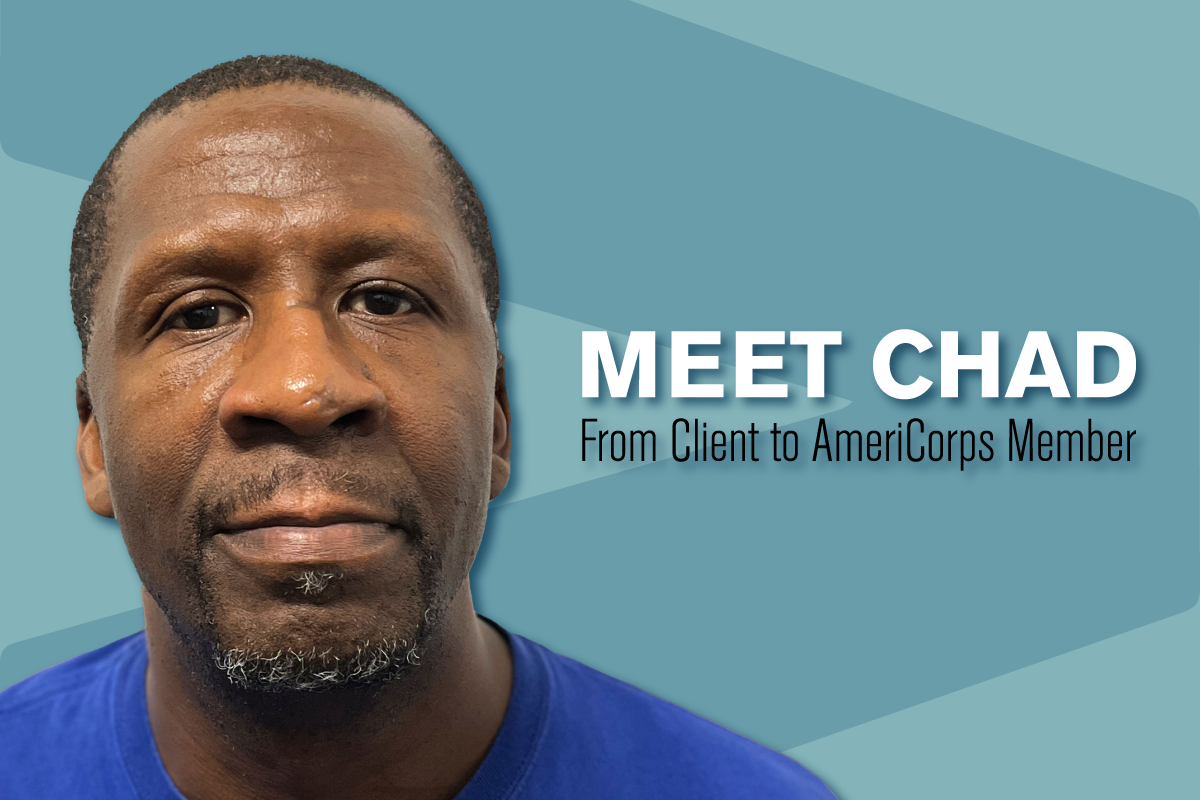 If you visited our RISE Center, Sojourner House, or our former PADS shelters in recent years, you might have met Chad. But depending on which year you met Chad, he might have worn a different hat than the one he wears today. Chad came to Housing Forward in the winter of 2017 as a client. Six years later, Chad now works with Housing Forward as an AmeriCorps member.
When Chad was admitted to West Suburban Hospital for congestive heart failure, a doctor told him about the services that Housing Forward had to offer. He later participated in our former PADS shelter program from until the summer of 2019. That fall, Chad joined our medical respite program at Sojourner House, where he lived until the next summer in 2020. Chad then moved into this own apartment with the support of our housing case managers!
Most clients are happy to exit Housing Forward to housing stability, and leave their chapter with us behind – and we are thrilled when people are able to do so! Chad, however, came back to us as a volunteer. For a year since summer 2021, Chad co-hosted the medical respite discussion groups that took place weekly on Wednesday nights with medical respite director Holly Rotman-Zaid. A variety of topics were discussed in these groups, ranging from mindfulness tips to dream interpretation. These discussion groups that Chad co-hosted are important for maintaining socialization and mental wellness for medical respite program participants.
In the fall of 2022, Chad began working with Housing Forward as an AmeriCorps member. Our AmeriCorps program allows people like Chad to work to build their community while gaining work experience, skills, and education assistance at the same time! Chad is currently our medical respite case aide. Chad attends to the needs of the RISE Center. His day includes performing wellness checks on program participants, having one-on-one conversations with clients when they need to talk, and attending the group discussions that they have. Chad also accompanies people to medical appointments or public aide offices, does intake for new program participants. Other daily tasks might include supplying a change of clothes for clients, distributing quarters and soap for laundry, and more. Chad shares, "There can be so many different things, as no one or no situation is exactly the same."
As an AmeriCorps case aide who used to be a client in the same program, Chad believes his past experience helps clients to trust the process they need to go through in order to obtain stable housing. "Some clients have a hard time opening up to be helped because they don't know what to expect or who they can trust. It helps to have commonality," Chad says. When asked about his future career goals, Chad hopes to work as a case manager for Housing Forward and has a passion for helping those experiencing homelessness. He shares, "The plan is to retire someday as an old man that helped a lot of people who needed help."
If you would like to learn more about our AmeriCorps program, visit https://www.housingforward.org/americorps