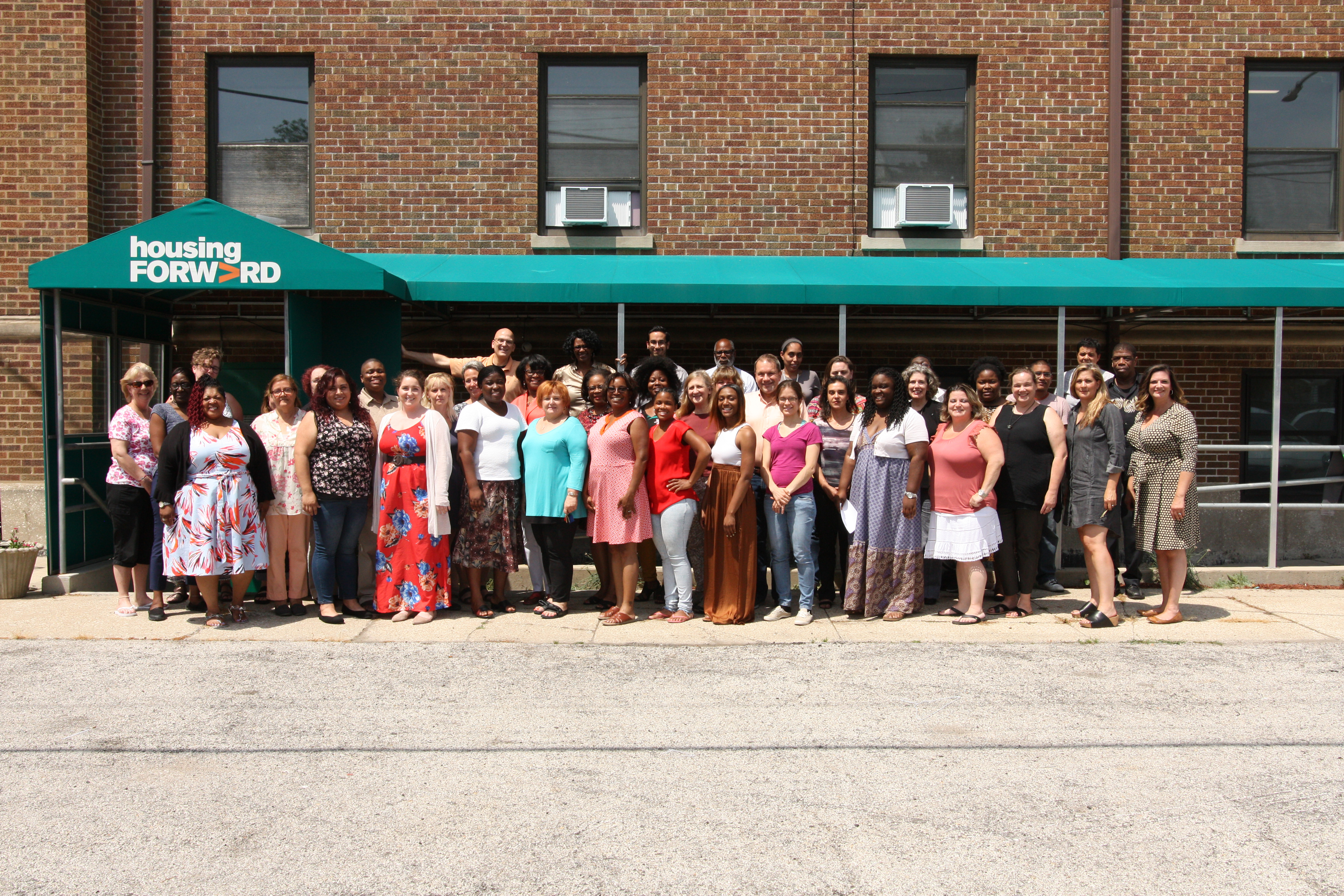 Leadership
Lynda Schueler, MPA
Executive Director
Bio
Lynda has devoted the past two decades of her career to helping men, women and families transition from housing crisis to housing stability. As Executive Director of Housing Forward since 2001, Lynda has led the formation of a comprehensive solution to homelessness. Her leadership has enabled the agency's growth from a $450,000 a year shelter provider to a $7.3 million agency offering housing, services and prevention programs in addition to safety-net services. Over the years, she has formed numerous collaborations whose expertise and resources have guided hundreds of Housing Forward clients on their paths toward self-sufficiency. Lynda is also a founder and the current board chair of the Alliance to End Homelessness in Suburban Cook County and has received awards of recognition for her advocacy and service work from the Chicago Coalition for the Homeless, Housing Action Illinois, West Cook Y and the Maywood Chamber of Commerce.  She earned a Masters Degree in Public Administration from Northern Illinois University, and a Bachelor of Science Degree from Illinois State University.
Misti Faust, MBA
Director of Finance & Administration
Bio
As the Director of Finance & Administration, Misti is responsible for managing the finances of the organization, human resources, overseeing IT and all facilities. Prior to joining Housing Forward in 2007, Misti worked as a fiscal clerk at New Moms, Inc., and as the senior accountant at the Bobby E. Wright Mental Health Center. Misti was drawn to Housing Forward because of a passion for work in the non-profit sector and because of her appreciation for the organizational culture of helping others. Knowing that each person whose homelessness is ended by Housing Forward has a fresh start in life motivates Misti day in and day out. When Misti is not at work she can be found with her family, and plans to be on a beach at a resort when she wins the lottery. Misti holds a Bachelor's of Science in Accounting, and a Masters in Accounting & Financial Management.  
Armando Smith, LCSW
Director of Operations & Client Services
Bio
Armando Smith, Director of Operations & Client Services, is responsible for providing leadership, direction, and oversight of Housing Forward's integrated service delivery system through six program areas – housing, services, employment, prevention, shelter and outreach. Armando has more than 35 years of leadership and counseling experience with prominent social service agencies such as The Night Ministry, Teen Living Programs and AIDS Foundation of Chicago. Most recently, Armando was Associate Director of Healthcare Clinical Operations for Vital Bridges, a division of Heartland Health Outreach. In that position, he was responsible for all program operations, quality assurance and improvement, outcome measurement and budget management. He is a part time staff at the Cathedral Counseling Center. He is a Licensed Clinical Social Worker and a member of the National Association of Social Workers. Armando, a native of Panama, is fluent in Spanish.
Janet Gow
Director of Development & Communications
Bio
As the Director of Development and Communications, Janet leads the development team and works with the Executive Director in support of the agency's fundraising efforts through multi-channel initiatives including major gifts, corporate and foundation relations, local and federal funding grants, individual donors, special events and board outreach, as well as direct marketing and communications. Janet has raised funds for non-profit agencies in many capacities for more than 20 years. Prior to joining Housing Forward, she was the Regional Director of Frankie's Friends, a charitable pet foundation, Corporate Relations Senior Officer at the American Cancer Society and a Development Executive for Jobs For Youth, an organization that provided job-readiness programming to help young adults gain employment. Janet has dedicated her career to fund organizations that inspire others, support and give to those most in need, and in doing so, create great legacies. Janet is involved in engaging the families in her local school district. 
Cristy Harris
Coordinated Entry Project Director
Development
Colleen Luckey
Development Manager, Grants
Amanda Rochon, MAT
Development Manager, Special Events
Volunteer & Outreach
Tonisha Daniel, MPA
Volunteer & Outreach Manager
Cleo Smith
Volunteer Coordinator (AmeriCorps)
Administration
Joy Conklin
Accounting Specialist
Kate Bursik
Staff Accountant
Sandi Stillo
Office Manager
Emmanuel Vazquez
Grants Accountant
Operations
David Flint, MPA
Manager of Compliance, Monitoring and Evaluation
Tammy Verticchio
Performance Evaluator
Coordinated Entry
Jake Bradley
Training and Engagement Manager
Jessica Ellenwood
Referral Manager
PADS Shelter
Dale Nowicki
Shelter Manager
Ronald Johnson
2nd Shift Staff
Vincent Johnson
2nd-Shift Staff
Mary Rinder
2nd-Shift Staff
Prevail Emergency Assistance Program
Romiesha Tucker
Stability Services Program Manager
Lauren Lofton, MSW
Intake & Assessment Specialist
Teneshia Kuykendoll
Stability Services Case Manager
Leticia Rodriguez
Homeless Prevention Specialist
Employment Readiness Program
Betsy Burton Kelly, MSW
Job Developer
Julius Bell
Employment Program Associate (AmeriCorps)
Supportive Housing
Patricia Stokes
Supportive Housing Director
Aaron Rapoport
Housing Case Manager
Cecilia O'Neill
Housing Case Manager, Veterans
Gail Diop
Housing Case Manager
Jenny Hupp
Housing Case Manager
Nina Rayford
Housing Case Manager
William Jones
Housing Navigator
Chelsea Dare
Housing Case Manager
Alexis Singleton
Housing Case Manager
Colin Fagan, MA
Housing Case Manager
Tiffani Gardner
Housing Case Manager
Katisha Boyd
Housing Case Manager
Elvis Lomeli
Housing Coordinator
Outreach & Engagement
Holly Rotman-Zaid
Outreach & Engagement Manager
Darlene Bell
In-reach Specialist
Lalema Bakate
Shelter In-Reach Case Manager
Ebony Martin
Street Outreach Specialist
Jennifer McWhorter, MA
Street Outreach Specialist
Danielle Woods
Shelter In-Reach & Engagement Specialist (AmeriCorps)
Supportive Services
Janet Hotch
Supportive Services Manager
Jackie Powell
Supportive Services Case Manager
Betsy Rogers, RN
Nurse Case Manager
Henry Fulkerson, President
Retired, PricewaterhouseCoopers
Jim Heininger, Vice President
Dixon|James Communications
Patrick J. Herron, 2nd Vice President
Call One
Jane Houle, Treasurer
Net@Work
Steven Glass, Secretary
Blue Cross Blue Shield of Illinois
John Ciancanelli
Navigant Consulting
Kathleen Clark
Retired, Attorney
Sarah Dolan
Quad City Bank & Trust
Robert Hahn
Dimensions Management Corporation
Peggy Johnson
Urban Ideas, LTD Partnership
Marc Kieselstein
Kirkland & Ellis LLP
Joan Kurtenbach
Rush University Medical Center
Aaron Lebovitz
Adaptation Capital, LLC
Tony Mitchell
Chicago Council on Global Affairs
Bill Nolan
ennVee TechnoGroup Inc.
Sallie Smylie
Retired, Kirkland & Ellis LLP
Samuel D. Stanovich
Firehouse Subs
John Tulley, M.D.
University of Illinois at Chicago
Heidi Vance
Team Blonde & Counter Coffee
Kristy Williams
Rush University Medical Center
Timothy Wrzesinski
West Monroe Partners
Friends of Housing Forward
The "Friends of Housing Forward" advisory committee is an energetic team of Housing Forward supporters whose purpose is to develop and gather resources that aid in the implementation of Housing Forward's vision.
Art Albores
Retired, Oak Park and River Forest High School
Otto Miller
PPM America, Inc.
Steve Bankes
AmTrust Financial Group
Leah Beckwith
UIC College of Nursing
Paul Beckwith
Sachem Company
Catherine Taylor Cappel
Former Board Member
Bill Clark, MD
Northwestern School of Medicine, Clinical Psychiatry
Rick Pollock, Treasurer
Restaurant Application Development Intl.
Jerry Delaney
Committeewoman, Democratic Party of Oak Park
Tom Dwyer
St. Edmund Parish
Jenifer Fabian
The Community House
Don Harmon
Illinois Senate President Pro Tem
Jon Gilfillan
Huntington Bank
Ruxandra Hill
BMO Harris Bank
Maureen Hunter
Community Representative
Laura Kliewer
The Council of State Governments
Will Ksander
Community Representative
Mark Kuczewski
Loyola University Chicago Health Sciences Division
Carol O'Brien
Abbott Laboratories
Sheila Pont
West Cook Pro Bono Network
Sally Prescott
Prescott Group
Doug Wyman
Sales Directors, Inc.
Jason Smith
The Book Table
The Associate Board is an innovative group of young professionals who are committed to further the friend-raising and fundraising efforts of Housing Forward.
Kendal Cross, President
BMO Harris Bank
Jimmy Fitzgerald, Secretary
Elmhurst College
Audrey O'Hern, Marketing Chair
The Schiller Team - @properties
Whitnie Bernard
CenterPoint Properties
Emily Davies
Venture One Real Estate
Christine Gilfillan
United Home Loans
Rebecca Herron
LGS Innovations
Gabrielle O'Connor
American Dental Association
Brandon Marchand
J.P. Morgan Chase Bank
Chasse Rehwinkel
Illinois State Treasurer's Office
Julianne Pedi
Loyola University Medical Center
Laura Ullman
BMO Harris Bank