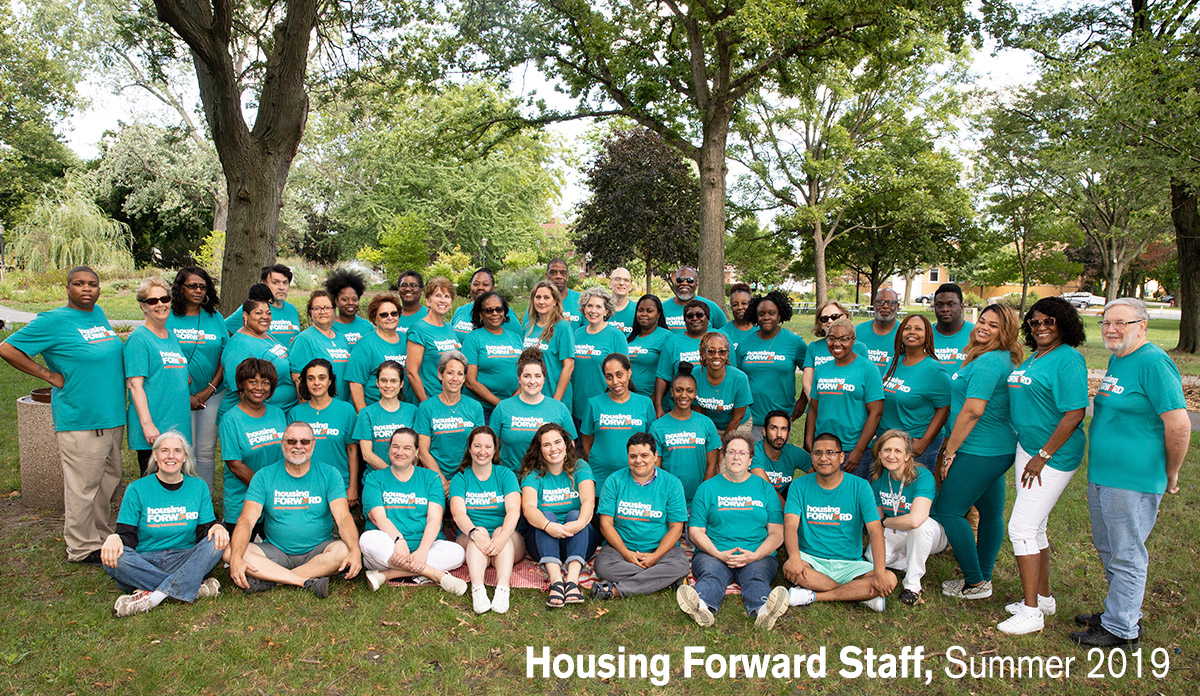 Leadership
Lynda Schueler, MPA
Executive Director
Bio
Lynda has devoted the past two decades of her career to helping men, women and families transition from housing crisis to housing stability. As Executive Director of Housing Forward since 2001, Lynda has led the formation of a comprehensive solution to homelessness. Her leadership has enabled the agency's growth from a $450,000 a year shelter provider to a $8.5 million agency offering a full continuum of housing, services and prevention programs in addition to safety-net services. Over the years, she has formed numerous collaborations whose expertise and resources have guided hundreds of Housing Forward clients on their paths toward self-sufficiency. Lynda is a founder and current board member of the Alliance to End Homelessness in Suburban Cook County and a founding member of the Oak Park Homelessness Coalition.  She has received awards of recognition for her advocacy and service work from the Chicago Coalition for the Homeless, Housing Action Illinois, West Cook Y, the Community Mental Health Board of Oak Park Township, the Maywood Chamber of Commerce and named a Paul Harris Fellow by the Oak Park Rotary.  She has Masters Degree in Public Administration from Northern Illinois University and a Bachelor of Science Degree from Illinois State University.
Jane Houle, MBA
Chief Financial Officer
Bio
Jane Houle has been the Director of Finance & Administration since 2018 and the CFO since October 2020. She is responsible for financial management strategy at Housing Forward including direct responsibility for the agency's accounting, finance, forecasting, budget, strategic planning, oversight of all public contracts/agreements, financial compliance, and risk management. Jane has over three decades of experience in accounting and financial management. Prior to joining Housing Forward, Jane was Consulting Manager for the nonprofit practice at
Net at Work
, coordinating the support and training of over 500 organizations using the Abila MIP accounting software. She was also a founding partner and senior advisor with 1st Choice Advisors, a software consulting firm focused on nonprofit organizations. She has also served as acting CFO for a number of nonprofits in the Chicago area and spent 5 years on the financial staff of a social service agency. Jane has a BBA from Western Michigan University and an MBA from DePaul University. She has been an active volunteer with organizations in the Chicago area serving youth, fair housing and the economically disadvantaged.
Chris Martinez, MBA, CFP®
Chief Operating Officer
Bio
Chris Martinez joins the Housing Forward team as Chief Operating Officer, bringing with him more than 25 years of corporate operations, technology, and program management expertise. Most recently, Chris was managing director at Oakbrook Solutions, where he aligned people, platforms, and processes to support growth and change, and led the strategic management consulting practice for wealth management and family office clients. Prior to consulting, Chris held leadership roles with The PrivateBank, Wilmington Trust, Bingham Legg Advisers, and Webster Management Group.
Chris has a BS in computer science from The University of Southern California, an MBA from Northwestern University's Kellogg School of Management, and is a Certified Financial Planner™. He is dedicated to housing and human services and is a member of the board of directors of Habitat for Humanity Chicago as well as and longtime volunteer at Catholic Charities of Chicago. In addition to volunteerism, Chris keeps active swimming, biking, and running (as a triathlete and guide for paratriathletes) and playing tennis.
Erik Johnson
Chief Development Officer
Bio
Erik Johnson brings more than two decades of non-profit leadership experience to his role as Chief Development Officer, where he provides strategic and operational direction for Housing Forward's fundraising and communication strategies and development activities.  Erik has significant experience leading successful development teams as Vice President of Development at Easterseals DuPage & Fox Valley and Vice President of Advancement.  In addition to fund-raising, Erik is passionate about social entrepreneurship and has created two social enterprises. Prior to the development arena, he served as the Chief Operating Officer of Vital Bridges and Executive Director of Community Response.
Erik has a Bachelor of Music and Business degree from Drake University and an MBA from Keller Graduate School of Business in Chicago.  He has served on the Board of Directors of Michael Teolis Singers and AIDS Cycle, Inc., as well as in a wide variety of consultative and volunteer roles in the areas of HIV, housing, developmental disabilities and the arts.    
Armando Smith, LCSW
Chief Program Officer
Bio
Armando Smith, Director of Operations & Client Services, is responsible for providing leadership, direction, and oversight of Housing Forward's integrated service delivery system through six program areas – housing, services, employment, prevention, shelter and outreach. Armando has more than 35 years of leadership and counseling experience with prominent social service agencies such as The Night Ministry, Teen Living Programs and AIDS Foundation of Chicago. Most recently, Armando was Associate Director of Healthcare Clinical Operations for Vital Bridges, a division of Heartland Health Outreach. In that position, he was responsible for all program operations, quality assurance and improvement, outcome measurement and budget management. He is a part time staff at the Cathedral Counseling Center. He is a Licensed Clinical Social Worker and a member of the National Association of Social Workers. Armando, a native of Panama, is fluent in Spanish.
Development
Cherrell Jackson
Events & Engagement Manager
Colleen Luckey
Development Manager, Grants
Michelle Ptack
Director, Communications
Brian Reilly
Manager, Foundations & Corporate Relations
Volunteer & Outreach
Volunteer at Housing Forward
Administration
Lorie Reid Fuller
Senior Operations Accountant
Sonya Draper-Potts
Controller
Sandi Stillo
Office Manager
Emmanuel Vazquez
Senior Grant Accountant
Operations
Susan Cronin
Manager, Human Resources
David Flint, MPA
Manager, Compliance
Erin Harmon
Data Support Specialist
Tammy Verticchio, MBA
Performance Evaluator
Interim Housing
Janet Hotch, MS, MA
Director, Interim Housing
Adam Axley
Resident Assistant
Lalema Bakate
Lead Coordinator
Monica Bobbitt
Resident Assistant
Reginald Burton
Resident Assistant
Khala Carter
Resident Assistant
Prentice Hills
Case Manager
Vincent Johnson
Resident Assistant
Deirdre Kassay, RN, MSN
Community Health Nurse
Laterriaus Lawry
Resident Assistant
Aneesha Moore
Program Associate
Tyler Paul
Resident Assistant
Jackie Powell, MSW
Case Manager
Mary Rinder
Resident Assistant
Antanet Roberts
Resident Assistant
Eric Swiecki
Resident Assistant
Prevention
Romiesha Tucker
Program Manager, Stability Services
Keena Greenleaf
Homeless Prevention Case Manager
Teneshia Kuykendoll
Stability Services Case Manager
Elvis Lomeli
Homeless Prevention Case Manager
Employment Readiness Program
Lauren A. Johnson, MBA
Employment Training Specialist
Medical Respite & Families in Transition
Holly Rotman-Zaid, MA
Director, Medical Respite and Families in Transition
Crystal Bryant
Medical Respite Case Manager
LaChaina Conwell, MPA
Engagement Specialist
Tiffany Isom, MA
Engagement Specialist
Demetrius Lawry
Medical Respite Case Manager
Ebony Martin
Family Support Specialist
Diversion & Outreach
Kadima Palles, MSW
Manager, Outreach & Diversion
Darlene Bell
Diversion & Intake Specialist
Benjamin T. Howard
Street Outreach Specialist
Dannette Kennedy-Salaam
Diversion & Outreach Specialist
Jennifer McWhorter, MA
Street Outreach Specialist
Supportive Housing
Patricia Stokes
Senior Director, Supportive Housing
Shannon Chatman
Housing Navigator
Brian Cody
VA Case Manager
Gail Diop
Housing Case Manager
Donna English, MS, LCPC
Housing Case Manager
Colin Fagan, MA
Housing Case Manager
Cheri Fox
Housing Navigator
Tunisia Frazier, MA
ODH Housing Case Manager
Tiffani Gardner
Housing Case Manager
Tiffany Green
Housing Case Manager
Terri Hunter
Housing Case Manager
William Jones
Housing Navigator
Michael King
Housing Case Manager
Philip Macklin
Housing Coordinator
Tiffany Moore, MBA
Flexible Housing Pool Case Manager
Sherise Nicholas
Case Manager Supervisor
Cecilia O'Neill
Rental Assistance Manager
Aaron Rapoport, LCSW
Housing Case Manager/Internship Coordinator
Leticia Rodriguez
Housing Case Manager
Todd Sher, MSW
Housing Case Manager
Douglas Smith
Housing Coordinator
Fabia Stafford-Ilevbare, MPH
Housing Case Manager
AmeriCorps
Sarah Catalano
Volunteer Coordinator
Calvin Jefferson
Case Aide, Diversion & Outreach
Julia Kulovitz
Aide, Outreach & Diversion
Dorothea Pantelios
Case Aide, Interim Housing
Smith Powell
Pantry Supervisor, Beyond Hunger
VISTA
Noah Jessie
Performance Evaluator & Compliance Assistant
Heidi Vance, President
Team Blonde
Steven Glass, Vice President
JenCare
Camile Lindsay Kumi, 2nd Vice President
Illinois Department of Corrections
Christopher J. Parker, Treasurer
Wintrust Bank
Marc Kieselstein, Secretary
Retired, Kirkland & Ellis LLP
Barbara J. Best
Capital Strategies Investment Group
Paul Betlinski
Desmond & Ahern
Rebecca Daisley
Advocate Aurora Health
Pamela Conley Euring
Coursera
Henry Fulkerson
Retired, PricewaterhouseCoopers
Tim Granholm
The Boeing Company
Robert Hahn
Dimensions Management Corporation
Patrick J. Herron
Call One
Emanuel Johnson II
Robert R. McCormick Foundation
Peggy Johnson
Catholic Charities
LeTisa L. Jones
Village of Broadview
Vena Nelson
Illinois Department of Public Health
Delilah P. Strickland
Croke, Fairchild, Morgan & Beres
Bob Tucker
Chicago Community Loan Fund
John Tulley, M.D.
University of Illinois at Chicago
Steven McMahon Zeller
Dykema Gossett PLLC
Friends of Housing Forward
The "Friends of Housing Forward" advisory committee is an energetic team of Housing Forward supporters whose purpose is to develop and gather resources that aid in the implementation of Housing Forward's vision.
Art Albores
Retired, Oak Park and River Forest High School
Bill Clark, MD
Northwestern School of Medicine, Clinical Psychiatry
Carol O'Brien
Abbott Laboratories
Catherine Taylor Cappel
Former Board Member
Don Harmon
Illinois Senate President Pro Tem
Doug Wyman
Sales Directors, Inc.
Jason Smith
The Book Table
Jenifer Fabian
People's Resource Center
Jerry Delaney
Committeewoman, Democratic Party of Oak Park
Laura Kliewer
The Council of State Governments
Leah Beckwith
UIC College of Nursing
Mark Kuczewski
Loyola University Chicago Health Sciences Division
Maureen Hunter
Community Representative
Paul Beckwith
Sachem Company
Ruxandra Hill
BMO Harris Bank
Sally Prescott
Prescott Group
Sheila Pont
West Cook Pro Bono Network
Steve Bankes
AmTrust Financial Group
Tom Dwyer
St. Edmund Parish
Will Ksander
Community Representative
The Associate Board is an innovative group of young professionals who are committed to further the friend-raising and fundraising efforts of Housing Forward.
Kendal Cross, President
BMO Harris Bank
Elizabeth Lohmann, Secretary
BMO Harris Bank
Whitnie Bernard
CenterPoint Properties
Jacob Crell
West Monroe Partners
Emily Davies
Venture One Real Estate
Jimmy Fitzgerald
Elmhurst College
Sarah Fujii
Rebecca Herron
The Climate Corp
Brandon Marchand
J.P. Morgan Chase Bank
Nicole Robertson
Loyola University
Laura Ullman
BMO Harris Bank
Chris Watson
Power Construction