Back to top
News
Thank You, BOMA/Suburban Chicago!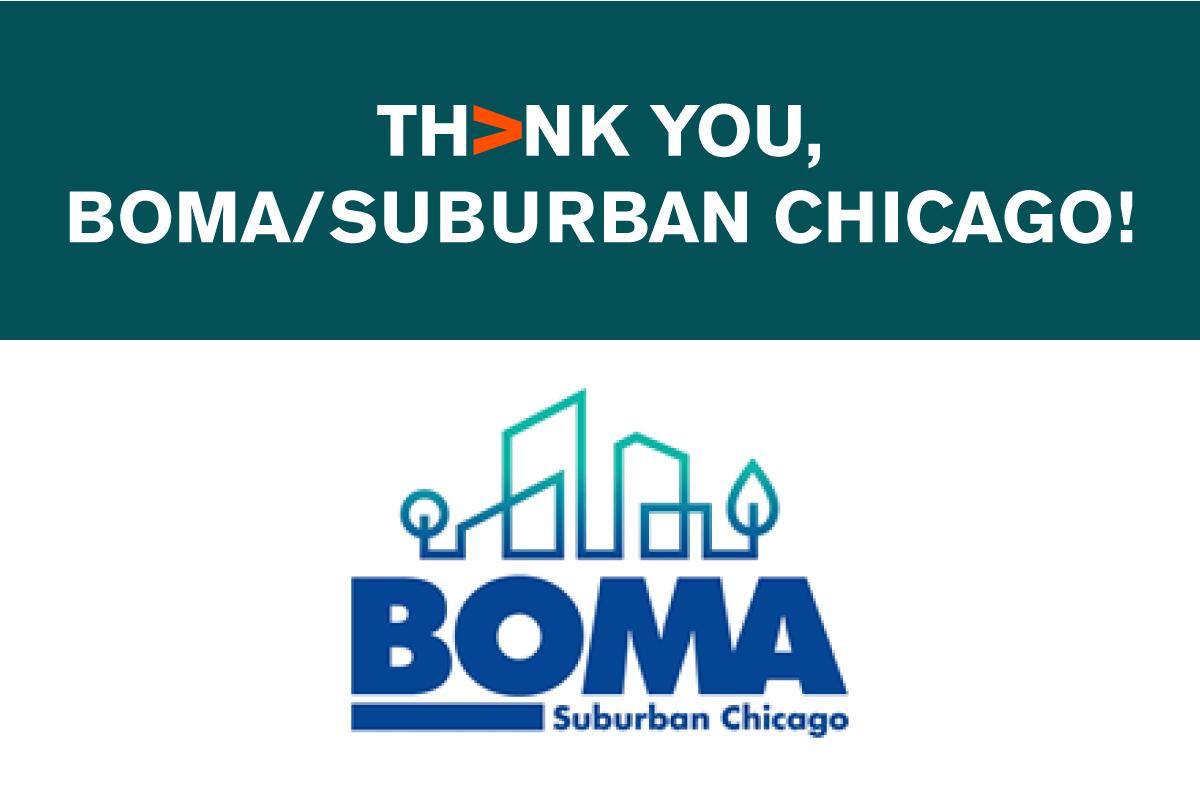 For over 20 years, BOMA/Suburban Chicago has chosen a Charity of the Year to support a local, suburban Chicago-focused organization. This year, Housing Forward was chosen! The goal of "Charity of the Year" is to make contributions to the organization as a group, as well as provide information about the organization to BOMA/Suburban Chicago members and how members can get involved. Due to BOMA/Suburban Chicago's involvement, one of their members, Lincoln Property Company, has partnered with us! It's thanks to a former Housing Forward Associate Board member that BOMA/Suburban Chicago has been involved with our work. 
Every year, members submit charity nominations to BOMA/Suburban Chicago's Board of Directors, and the board votes on who will be Charity of the Year. Housing Forward was chosen in the fall of 2021 for both 2022 and 2023! We were nominated by Emily Davies of Venture One – a Housing Forward Associate Board alum. Davies was a member of the Associate Board from 2015 to early 2023! Boryscka, president of BOMA/Suburban Chicago, says, "The Board of Directors feels Housing Forward represents action and compassion servicing their clients, by proactively pursuing to end homelessness one client at a time through dignity and respect. We want to partner with that outlook and help where we can to provide financial and volunteer support for Housing Forward." BOMA/Suburban Chicago followed through with that goal in 2022 and continue to do so in 2023! 
In 2022, BOMA/Suburban Chicago wanted to volunteer with time as well as money. They contributed a House to Home Kit for a participant in our Victory's Path program and assisted on move-in day. Other item donations included new towels and sheets for our Interim Housing program and supplies for pregnant mothers in our Families in Transition program. When BOMA/Suburban Chicago had a casino night event in September 2022, the proceeds from registration funds were donated to Housing Forward. In December 2022 at their Holiday & Awards Lunch, association members were able to hear more about our mission and recent updates. Members then kindly donated funds and gift cards to assist our clients. 
For 2023, another House to Home Kit is in the works! BOMA/Suburban Chicago also plans to get a team together to volunteer at our Emergency Overnight Shelter, which now runs 365 days a year. We can't wait to see what amazing work BOMA/Suburban Chicago will contribute! Many members of BOMA/Suburban Chicago love giving back to organizations in the community and having Housing Forward as Charity of the Year is another way for them to get involved in a way that is well-coordinated and organized. We are so grateful to have their support!