Back to top
News
Meet the Burtons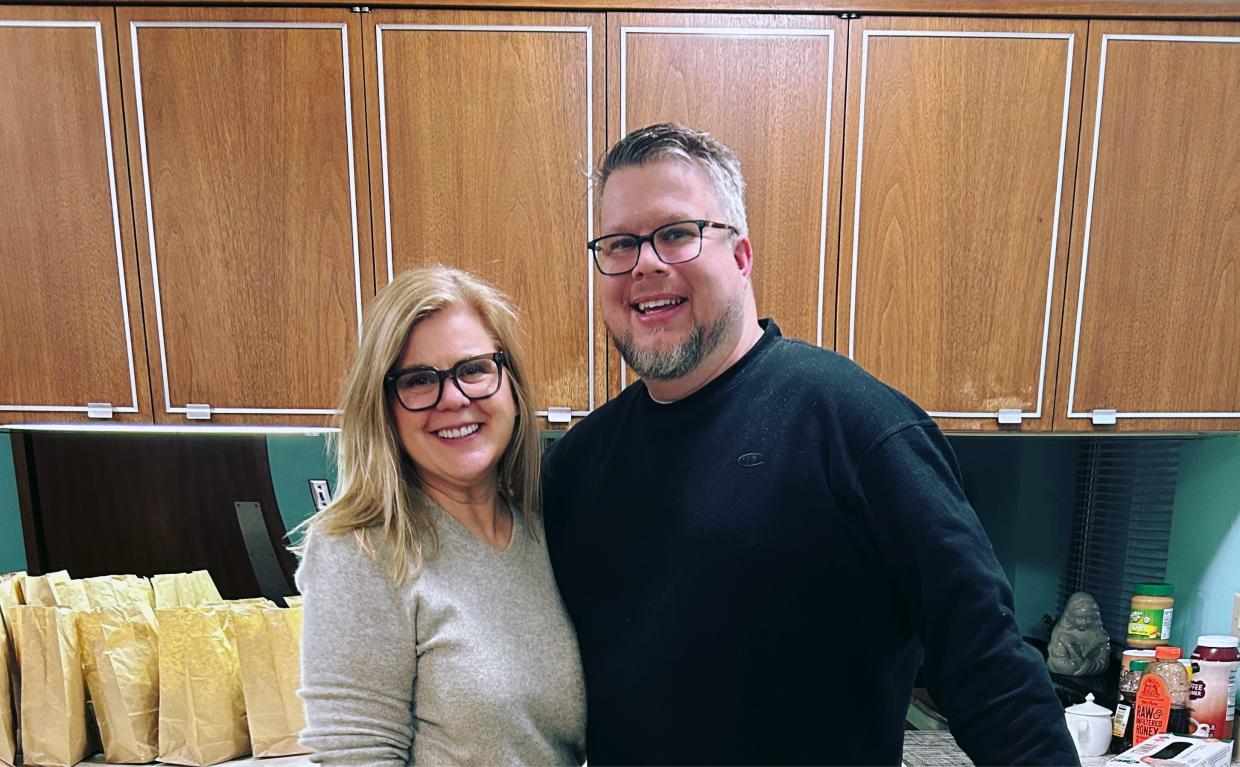 Meet Melody and Jeremy Burton – a super duo who is a part of our volunteer program! You can catch them volunteering weekly at our shelter program in the St. Catherine/Lucy former rectory, where they work with onsite Housing Forward staff to meet the needs of shelter participants. As shelter hosts, they set up and serve dinner meals, launder the bed linens, organize the kitchen space, and offer other kinds of support. The pair help provide a safe space for conversation with shelter participants and direct them to staff when they have program-related questions. You can tell from their work that this isn't their first time volunteering for us! 
The Burtons first learned about Housing Forward in the mid-2000's when we were known as West Suburban PADS. They would hear comments from friends and neighbors about our work in the community and our volunteer opportunities to support our initiatives. During the pandemic, Melody joined the moving committee and participated in projects ranging from relocating offsite inventory to moving the Austin storage facility and cleaning up the Maywood office. Jeremy joined in for the Thanksgiving dinner distribution and delivery. Together, the two have worked with Housing Forward at three satellite housing shelters hosted by Good Shepherd Lutheran Church, Grace Episcopal Church, and St. Catherine of Siena – St. Lucy and St. Giles Parish. 
When asked how volunteering at Housing Forward impacted them, this is what the Burtons shared: 
Our time with Housing Forward has been incredibly positive. Each week we encounter people with courage, strength and resolve. It does, however, raise some underlying challenges and issues. Clearly, resources exist to provide basic shelter, food, and compassion to people. What we find troubling is the persistence of homelessness, hunger, and the compassion deficit. There are issues of mental illness and chemical dependency, which require more comprehensive solutions that are simply not available at the emergency shelter. We also saw an explosion of the immigrant homeless population this year, which Housing Forward handled proactively. 

Simply put – our experiences have been powerful and everyone we have met at the shelter has been great. We've had conversations that have reshaped our ideas about homelessness. And we are constantly reminded that the differences between benefactor, staff, volunteer, immigrant, or other guests can be misfortune or entirely illusory.
Melody and Jeremy Burton look forward to continuing their volunteer work with us, and we are thankful for their time! People like the Burtons and other volunteers truly strengthen our community in west suburban Cook County. They open our eyes to the reality of homelessness and how we can work to end housing instability in our community.