Back to top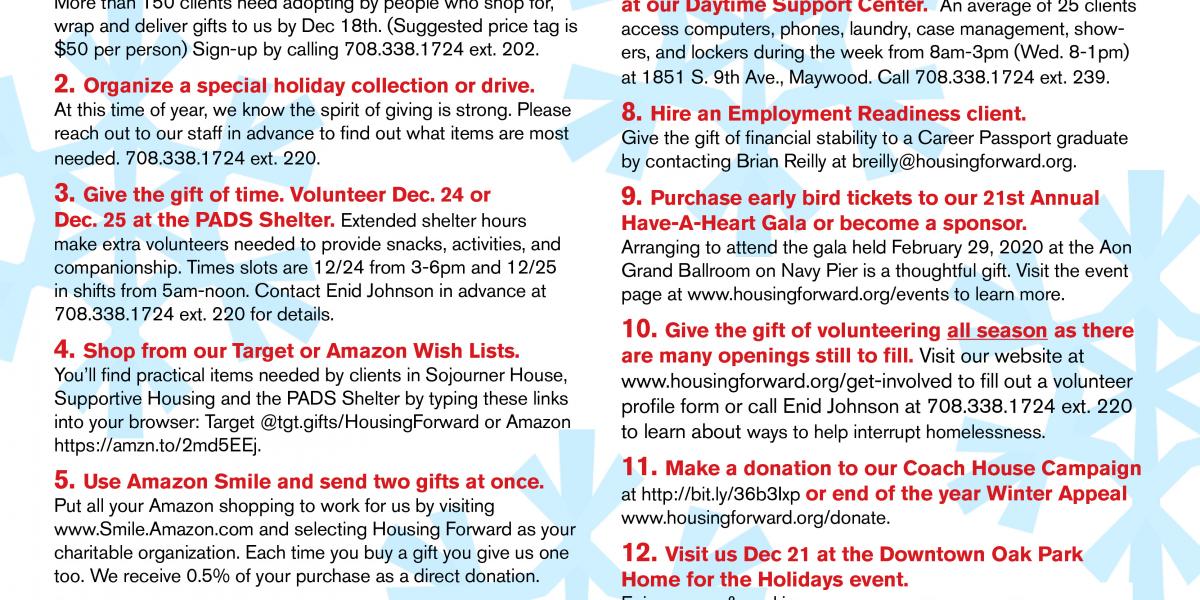 News
Looking for ways to help end homelessness this season?
Here are 12 Ways...
1. Sponsor a client in our Holiday Gift Program.
More than 150 clients need adopting by people who shop for, wrap and deliver gifts to us by Dec 18th. (Suggested price tag is $50 per person) Sign-up by calling 708.338.1724. Click here for the online registration form.
2. Organize a special holiday collection or drive.
At this time of year, we know the spirit of giving is strong. Please reach out to our staff in advance to find out what items are most needed. 708.338.1724. Here is our general wish list.
3. Give the gift of time. Volunteer Dec. 24 or Dec. 25 at the PADS Shelter.
Extended shelter hours make extra volunteers needed to provide snacks, activities, and companionship. Times slots are 12/24 from 3-6pm and 12/25 in shifts from 5am-noon. Contact us in advance at 708.338.1724 for details.
4. Shop from our Target or Amazon Wish Lists.
You'll find practical items needed by clients in Sojourner House, Supportive Housing and the PADS Shelter by clicking these links: Target or Amazon
5. Use Amazon Smile and send two gifts at once.
Put all your Amazon shopping to work for us by visiting www.Smile.Amazon.com and selecting Housing Forward as your charitable organization. Each time you buy a gift you give us one too. We receive 0.5% of your purchase as a direct donation.
6. Stop by The Alternative Christmas Store.
Rethink gift-giving by shopping to help others at First United Church of Oak Park on Sundays Dec 8, 15, and 22nd from 10-11am and 12-12:45pm in the Church Lounge, 848 Lake Street.
7. Deliver holiday cookies or warm socks to clients at our Daytime Support Center.  
An average of 25 clients access computers, phones, laundry, case management, showers, and lockers during the week from 8am-3pm (Wed. 8-1pm) at 1851 S. 9th Ave., Maywood. Call 708.338.1724 ext. 239. 
8. Hire an Employment Readiness client.
Give the gift of financial stability to a Career Passport graduate by contacting Brian Reilly at breilly@housingforward.org.
9. Purchase earlybird tickets to our 21st Annual Have-A-Heart Gala or become a sponsor. 
Arranging to attend the gala held February 29, 2020 at the Aon Grand Ballroom on Navy Pier is a thoughtful gift. Visit the event page at www.housingforward.org/events to learn more.
10. Give the gift of volunteering all season, as there are many openings still to fill.  
Visit our website at www.housingforward.org/get-involved to fill out a volunteer profile form or call us at 708.338.1724 to learn about ways to help interrupt homelessness.
11. Make a donation to our Coach House Campaign or end of the year Winter Appeal.
12. Visit us Dec 21 at the Downtown Oak Park Home for the Holidays event. Enjoy cocoa & cookies 11am to 3pm on Marion St.