Back to top
News
From Motel Check-Ups to Weekly Clinics: Our Partnership with Loyola Street Medicine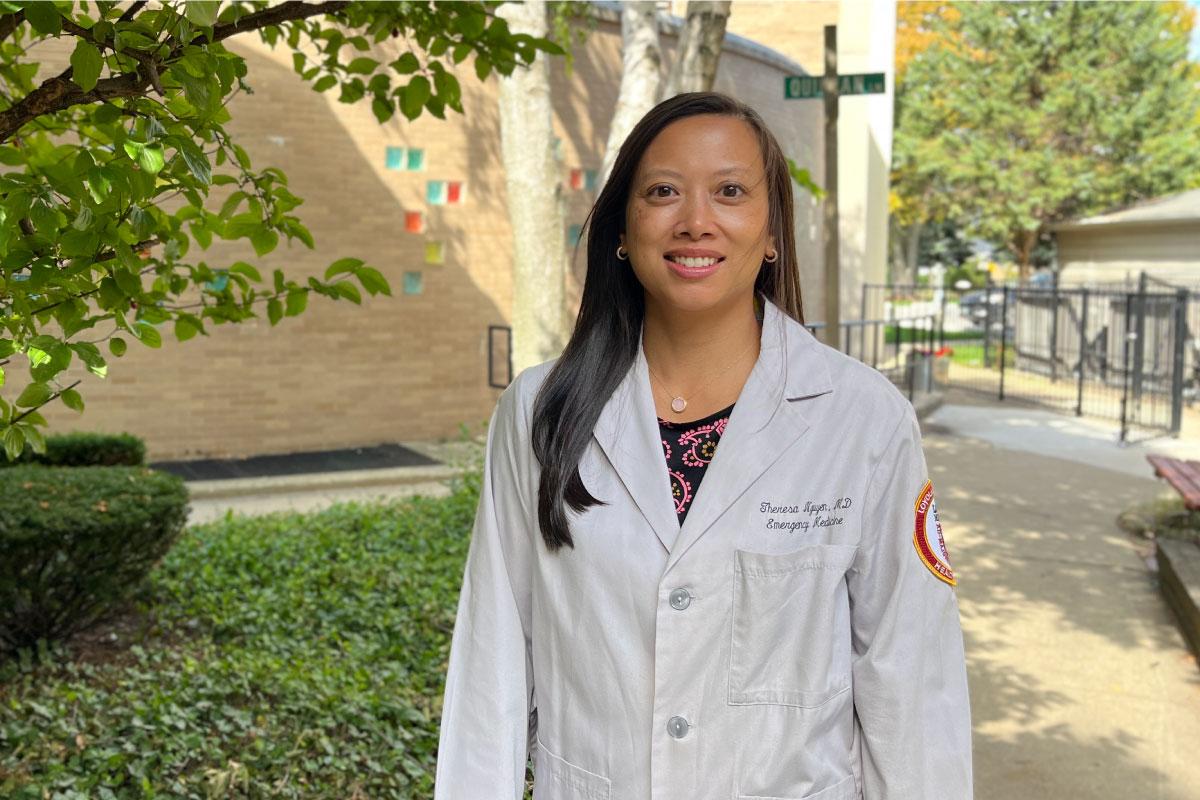 Street Medicine is a movement to provide medical services to those experiencing homelessness by meeting them where they are - on their own terms. We are thrilled to have access to street medicine through our partnership with Loyola University Medical Center. The program is coordinated by Theresa Nguyen, MD., who came to Loyola seven years ago as an attending physician and associate professor. She had experience in global health medicine, which opened her eyes to health disparities in vulnerable populations. Shortly before the pandemic started, a group of medical students approached Dr. Nguyen to ask her to be the faculty sponsor for the new street medicine program. She happily agreed. 
When the lockdown began in March 2020, our PADS shelters had to close to prevent further spread of the virus. As part of Housing Forward's emergency response, shelter clients were placed in motel rooms so they could safely social-distance from others. Representing Loyola, Dr. Nguyen asked reached out to us to see how the team could help. The Loyola Street Medicine team dove right into the emergency response, helping our volunteer nurse, Harriet, with client medical check-ups at the motels. 
After we were able to lease the former Write Inn to house our Interim Housing Program, Dr. Nguyen was instrumental in starting a medical clinic in November 2020 which runs on Wednesday evenings. At the medical clinic, the Loyola Street Medicine team helps out with phone call screenings, administering vaccinations, nutrition and wellness lessons, wound care, and more.
Beyond our Interim Housing Program, volunteers from the Loyola Street Medicine program can be found in our other program areas as well. Clients in our medical respite program and those we connect with through street outreach who are seeking medical help also benefit from access to Loyola physicians.
And the street medicine program is continuing to grow! In addition to the medical clinic, clients have also benefited from vision screenings and have access to ENT (ear, nose, and throat) specialists for more specialized care. 
When asked about the future for Loyola Street Medicine, Dr. Nguyen remarked, "Everybody deserves to be treated with dignity and respect." She dreams of a brick-and-mortar building offering street medicine services without financial expectation for those who walk in. She also imagines a process involving street medicine client advocates at hospitals. They would follow patients from the beginning through the end of medical treatment. Having these patient supports, Dr. Nguyen imagines it would be easier to "break the cycle of emergency department visits and hospitalizations" that tend to plague those who experience homelessness.