Back to top
News
A lesson in social justice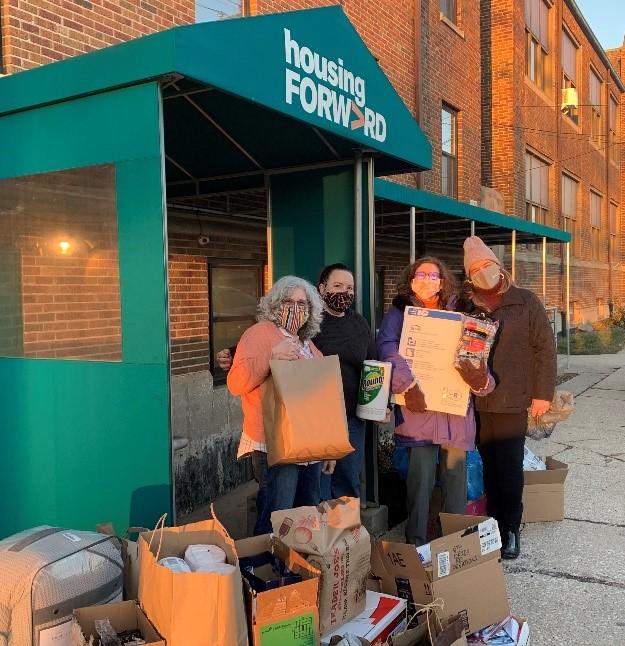 Each year, students in the 6th Grade Religious Education class at Unity Temple Unitarian Universalist Congregation in Oak Park create a social justice project. The curriculum exposes them to the concept of social injustice and guides them to work together to research an issue they care about, choose a beneficiary and then decide what their action will be. Although the young people participated individually via Zoom, they were able to come together and affect change locally.
After group discussion, the middle schoolers felt drawn to the issue of homelessness. They invited a member of our staff to join their virtual class for a conversation about the work we do and ways they could help. They had many questions about what it means to be homeless during the COVID-19 pandemic. After learning that we support both people who are literally homeless, and others sheltered temporarily waiting for permanent housing, they chose a donation drive. "I so am glad that we decided to help Housing Forward," reported Izzy. Vivienne agreed, "It was definitely a good choice."
For several weeks the class promoted the project to their congregation, friends and neighbors. They asked for specific things from our wish list including quarters for laundry & vending machines, toiletry items, hand warmers, nonperishable snacks and cleaning supplies.
To get around the challenge of being so virtual, they created a Google Form to coordinate donation pickups. With the support of class facilitators and parents, more than 20 boxes and bags were delivered to our offices in Maywood, where they were sorted by Gale Zemel, an invaluable volunteer.
Afterward Aubree shared, "I felt good. I knew we were helping people, and I was glad we could help make a difference."