Back to top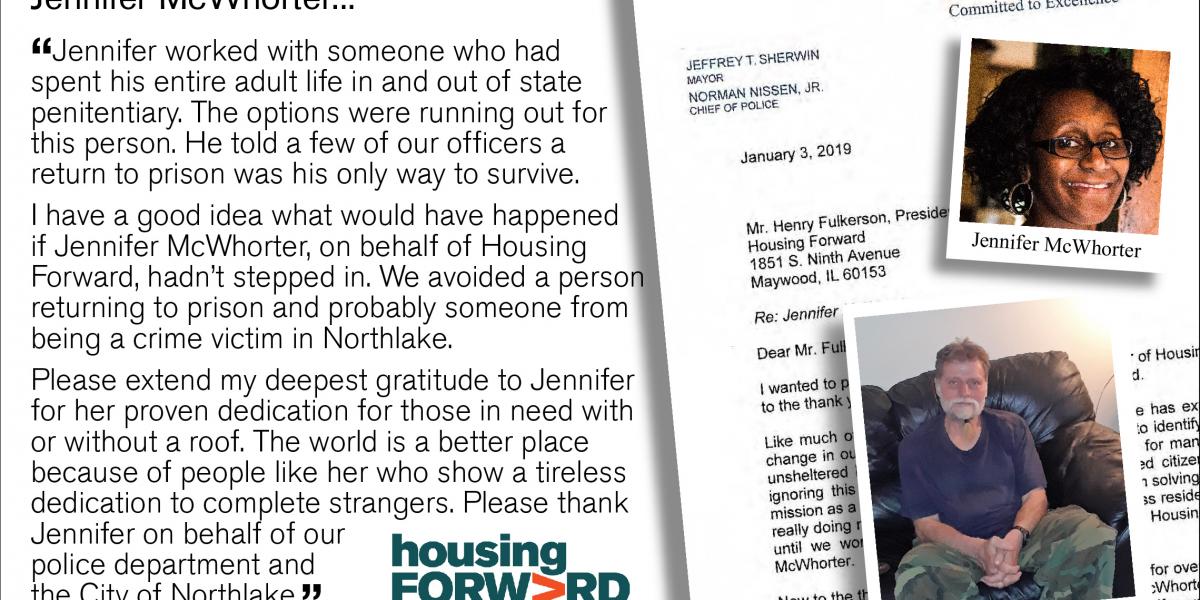 News
Highlighting the work of the Outreach & Engagement Team
Have you ever encountered someone on the street who you feel needs help? Did you wonder if one person can really make a difference? Do you ever imagine people from different organizations truly able to connect someone in crisis with the help they need?
 The members of our Outreach and Engagement team would answer "yes" to all three questions. At Housing Forward, it is their role to connect the most vulnerable individuals living on the streets, or in other places not mean for human habitation, with resources.
These are excerpts from a recent letter from the Mr. Norma Nissen, Jr., Chief of Police in Northlake to the President of our Board in reference to Jennifer McWhorter, one of our Street Outreach Specialists.
 "Jennifer worked with our person who had spent his entire adult life in an out of state penitentiary. The options were running out for this person. He told a few of our officers a return to prison was his only way to survive.
"I have a good idea what would have happened if Jennifer McWhorter, on behalf of Housing Forward, hadn't stepped in. We avoided a person returning to prison and probably someone from being a crime victim in Northlake."
"Please extend my deepest gratitude to Jennifer for her proven dedication for those in need who live in the City of Northlake, with or without a roof. The world is a better place because of people like Jennifer, who show a tireless dedication to complete strangers. Please thank Jennifer on behalf of our police department and the City of Northlake."
In addition to Jennifer's, we can tell many similar success stories featuring members of the outreach team. Led by Manager Holly Rotman-Zaid, they are Ebony Martin, Lalema Bakate, and Darlene Bell, and they are there to help. Leave a message or text 708-559-9579 or 708-979-5033 if you meet someone who needs street outreach, basic aid, or just someone to listen. One person, especially someone with access to the programs Housing Forward can offer, really can make a difference.