Back to top
News
Fences Make Good Neighbors, and So Do Future Eagle Scouts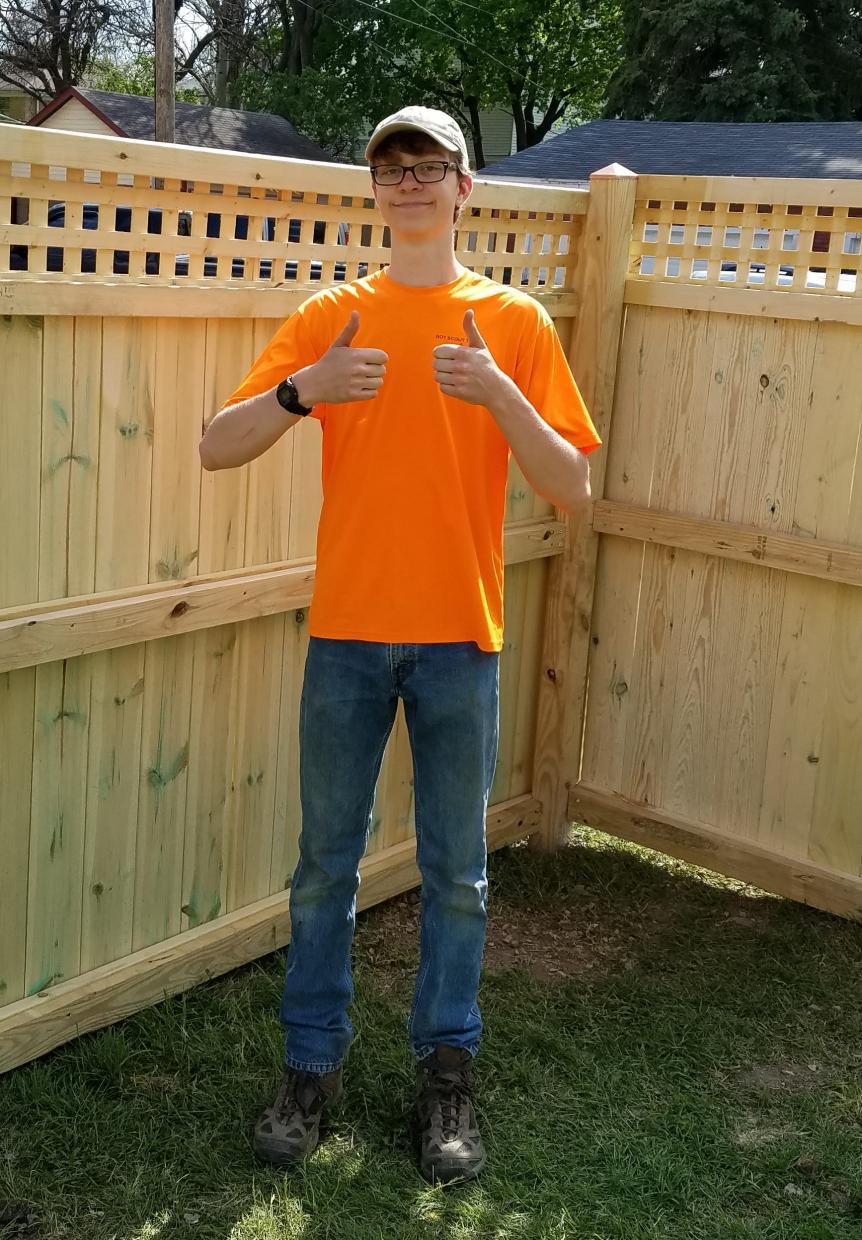 Nathan Gallagher is an Oak Parker, a student at Oak Park and River Forest High School and since 6th grade, a member of Boy Scout Troop 4002—usually referred to as "Troop 2" locally.
As part of earning his Eagle Scout badge, Nathan had been looking for a project that would make a significant difference in his community. When his mother told him about the chance to work with Housing Forward, he said he was instantly intrigued. "I didn't know much about the organization when I started," he says. After learning more about Sojourner House, "I became sure that it was a cause worth supporting. Now I know that the tenants will be people who have trouble accessing the regular PADS shelters for reasons like being recently discharged from the hospital, or needing extra help with a child who has Autism Spectrum Disorder." After talking to Patrick Herron, a member of the Housing Forward Board of Directors, about what Sojourner House needed, he decided to undertake building a fence surrounding the property at 324 N. Austin Avenue in Oak Park.
According to Nate, the Eagle Scout Award is the most prestigious award in scouting. It is given to those who exemplify the scout oath and law in their daily lives, and is a symbol of cheerful service and a desire to improve one's community. Although Nathan had always assumed he would become an Eagle Scout, it wasn't until learning about Housing Forward did he have the motivation. "Once I started," he said, "I found it difficult to go a few minutes without thinking about it. It was a commitment to cheerful service that pushed me to want to become an Eagle Scout in the first place."
Nathan created an online crowdfunding campaign and within a couple of days he had raised over $800 for the project, which was enough to purchase the fence panels. Many of the on-site volunteers were from his troop with a few school friends mixed in. He's absolutely sure he wouldn't have been able to complete the project without their help.
The project required over 40 hours of careful planning, 20 hours of labor, multiple trips to Home Depot (who donated about $200 worth of supplies) for estimates and advice, and a lot of independent research. "I had never completed a large scale construction project like this before," admitted Nate. There was a lot to learn. "Luckily for me, I had the support of adults in my troop that I felt comfortable asking for help."
Housing Forward is grateful to this future Eagle Scout, his supporters, and Home Depot, for working together to help end homelessness in the communities we serve. To us, Nathan built much more than a fence—he build part of a bridge to housing stability.