Back to top
News
AmeriCorps Members honor Dr. King during a day of service.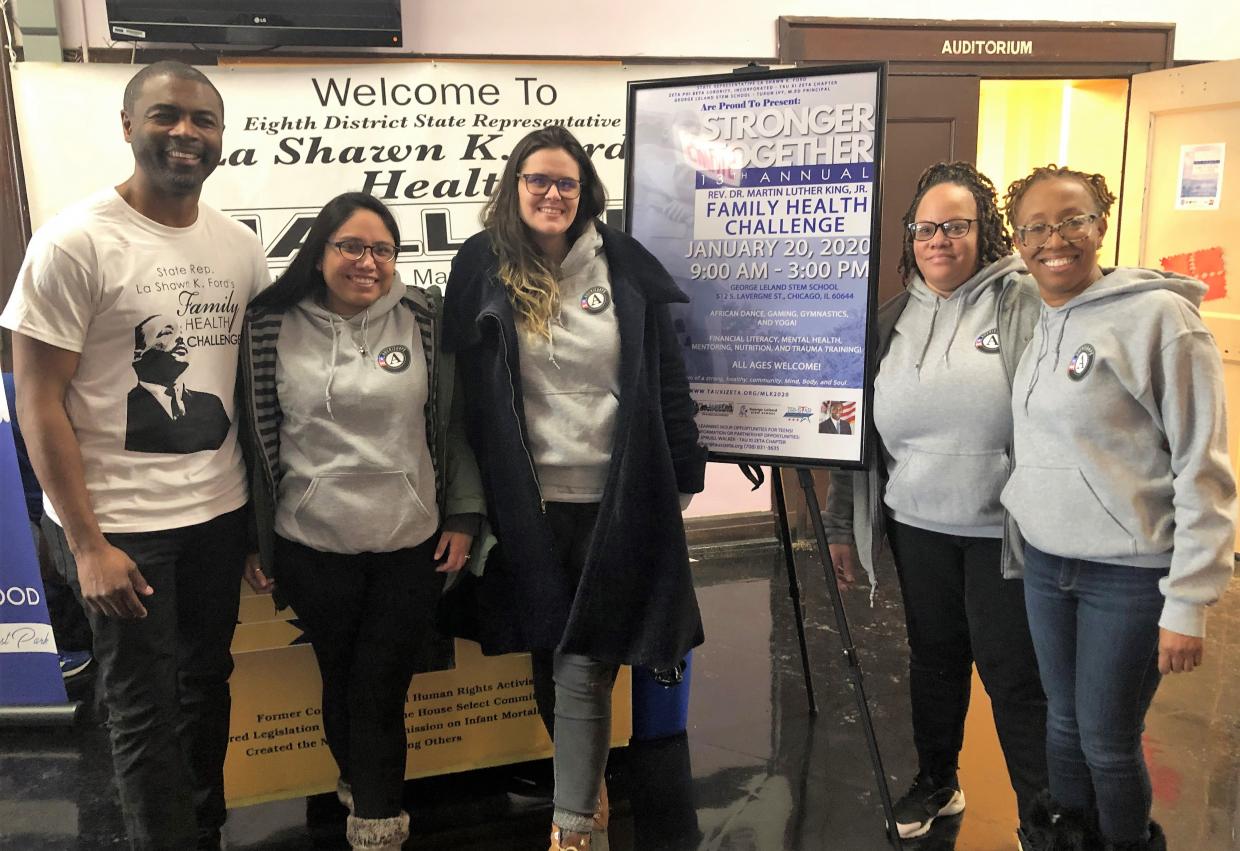 Our current team of AmeriCorps members teamed up with State Representative La Shawn K. Ford, D-Chicago, and several other service groups for his 14th Annual Family Health Challenge honoring Rev. Dr. Martin Luther King, Jr. This event included honoring Dr. King with a special historical program and healthy activities such as learning about healthy eating, fun games, yoga, African dance, and gymnastics.
This event took place January 20, 2020 at George Leland STEM School, 512 S. Lavergne Ave, Chicago, for students K-12 and their families. Additional activities included programs about financial literacy, mental health, mentoring, and trauma training. 
\
Pictured in the photos above are State Rep. La Shawn K. Ford, Housing Forward Volunteer & Community Outreach Manager Enid Johnson, and current affiliated AmeriCorps members; Ana Petersohn (Beyond Hunger), Ariah Palter (Beds Plus), Calvin Jefferson (Support Center), Danielle Drinkuth (Emergency Assistance), Demetrius Lawery (Employment Specialist), Kristina Rodriguez Jeluso (Beyond Hunger), Natasha Spratt (Support Center), Shameka Byrd (PADS Shelter), and Valerie Achterhof  (Beyond Hunger) partiicipating in the Family Health Challenge honoring Rev. Dr. Martin Luther King, Jr. 
AmeriCorps offers a variety of service opportunities, from the classroom to the outdoors, and everything in between. No matter what you're passionate about, where you're from, or why you choose to serve, AmeriCorps is your chance to be the greater good. AmeriCorps also creates jobs and provides pathways to opportunity as members enter the workforce by placing thousands of people into intensive service positions where they learn valuable skills, earn money for education, and develop a strong sense of civic responsibility. To learn more about AmeriCorps, visit https://www.nationalservice.gov/programs/americorps.