Wednesday Journal 2020 Villagers of the Year
Friday, January 8th, 2021
Published by The Wednesday Journal, January 6, 2021
In the unforgiving year just past, we might all have lost our path if not for the helpers and the heroes. Across 2020, Wednesday Journal sought out and told the stories of so many people doing good, taking risks, watching out during the COVID-19 pandemic. When, in November, we began to focus on our 36th annual Villager of the Year, we turned to readers for their nominations and we found a whole new group of helpers and heroes that we'd never known.
So as 2021 opens with promise — and the promise of more pain — we present 16 Villagers of the Year. Each person profiled in our pages is fully worthy of recognition. Yet we'd note that each also stands in for a larger group of our neighbors who have been brave and kind, bold and innovative.
And so we have an ICU nurse at Rush Oak Park Hospital and an ER doc at UIC. But we all know of so many first responders who call Oak Park and River Forest home. We have the leaders of two nonprofits who have lived their mission and reinvented their strategies on the fly in the elemental realms of food and shelter. But every nonprofit has been strained and challenged and worked hard to meet those challenges.
Each person we profile will bring to your mind someone that we have missed. We'd urge you to reach out to them, to thank them and, if appropriate, to support them with a donation. And please, share their stories at OakPark.com or in a letter to the editor.
In this impossible year, we are all Villagers of the Year.
-Dan Haley Wednesday Journal Publisher
Read the compete article here. https://www.oakpark.com/News/Articles/1-6-2021/Helpers-and-heroes-bring-...
__________________________________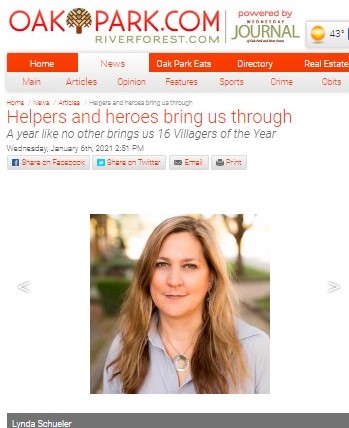 Lynda Schueler
Leading Housing Forward in New Directions
Housing Forward, under the leadership of Executive Director Lynda Schueler, has had to pivot hard during the COVID-19 pandemic, but with determination and passion, Schueler has redefined the way the nonprofit helps its clients.
The overnight shelter model simply wasn't going to work during the pandemic, so Housing Forward found empty hotel rooms in Oak Park and neighboring areas for its clients. That, in turn, led to a change in the way the organization provides services.
"Hotel room space provided so many solutions," said Schueler. "Our population is already traumatized by being homeless. The hotel rooms offer our clients their own feeling of stability. It allows them to really focus on their goals. They have a place to keep their belongings and not have to stuff them behind bushes. It allows them and us to see beyond their immediate crisis."
This new model, heavily underwritten with federal dollars from the CARES Act and much of it funneled through the village of Oak Park, resulted in the bold step of Housing Forward signing a one-year lease for all the rooms at the pandemic-shuttered Write Inn on Oak Park Avenue.
"It's a huge, huge deal," said Schueler. And it was reinforced in August when the Housing Forward board voted to adopt the 24/7 interim housing model as its principal means of housing the homeless.
"This year we have learned a lot. Like wow. A lot," she said. "What we are doing is really making a difference."
Maria Maxham