Back to top
News
Update on Housing Forward Fire Recovery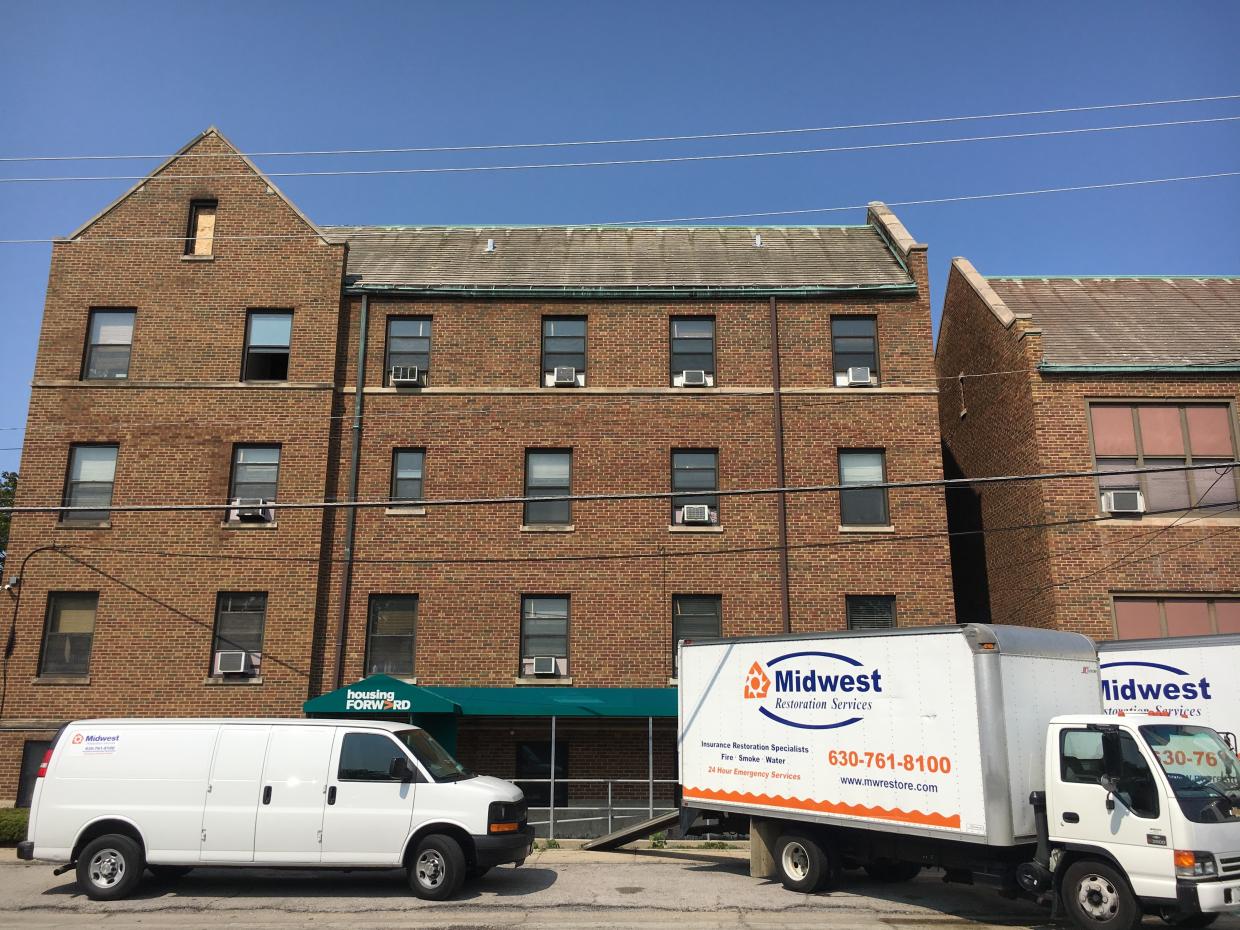 Letter from Housing Forward's Executive Director, Lynda Schueler
Saturday was a difficult day for Housing Forward. Sometime between 2am and 3am, our Headquarters and Support Center in Maywood experienced a fire, it was contained to the attic of the building. Above are some photos taken after it was extinguished. Fortunately, the building was unoccupied and no one was injured. We would like to thank the many fire departments, personnel and first responders for their tireless professional and persistent efforts to contain and extinguish the fire. The extensive smoke and water damage throughout the four story building has made it uninhabitable. We are, therefore, moving our daytime Support Center and relocating nearly 40 staff which includes our housing team, outreach and engagement team, shelter staff, coordinated entry team as well as our volunteer, operations, development, finance and administrative staff.
Our daytime Support Center has been relocated to the Quinn Center just east of Housing Forward at 815 Lexington Ave. (Door #1, Room 107). The hours remain the same: Mon, Tues, Thurs and Fri: 8am - 3pm and Wed: 8am - 1pm. Individuals seeking emergency financial assistance or employment readiness services should visit our Oak Park office located at 6634 W. Roosevelt Road.  Right now, the best way to reach us is via email until our phone system and extensions are transferred over.
We want to recognize the quick response to our plea for assistance from our service partners - West Cook YMCA for allowing our clients to temporarily use their shower rooms; the Oak Park River Forest Food Pantry in assisting us with surplus meals and to Thresholds, First United Church of Oak Park and the Alliance to End Homelessness in Suburban Cook County for providing office space for our staff.
Our emergency response plan has been implemented. We are doing our very best to keep everything operating and continue to provide services to those in our community who need us. Early estimates suggest that we will not be able to return to Maywood for a number of months. The coming days, weeks and months will be challenging, but we have confronted the unexpected before.
Many of you have already asked how you can help.  At this time, we have no capacity to store donations because our storage space was lost in the fire. We will let you know when we can begin accepting donations to help replace what was lost. Our greatest need at the moment is financial support to assist with the relocation and restoration efforts. If you would like to make a monetary donation, click here or on the button below.  Please feel free to share this link with others who you know that may be interested in helping.
We will keep everyone updated through social media and our e-news. Thank you for all your thoughts, concern and support.