Back to top
News
Summertime Spent Volunteering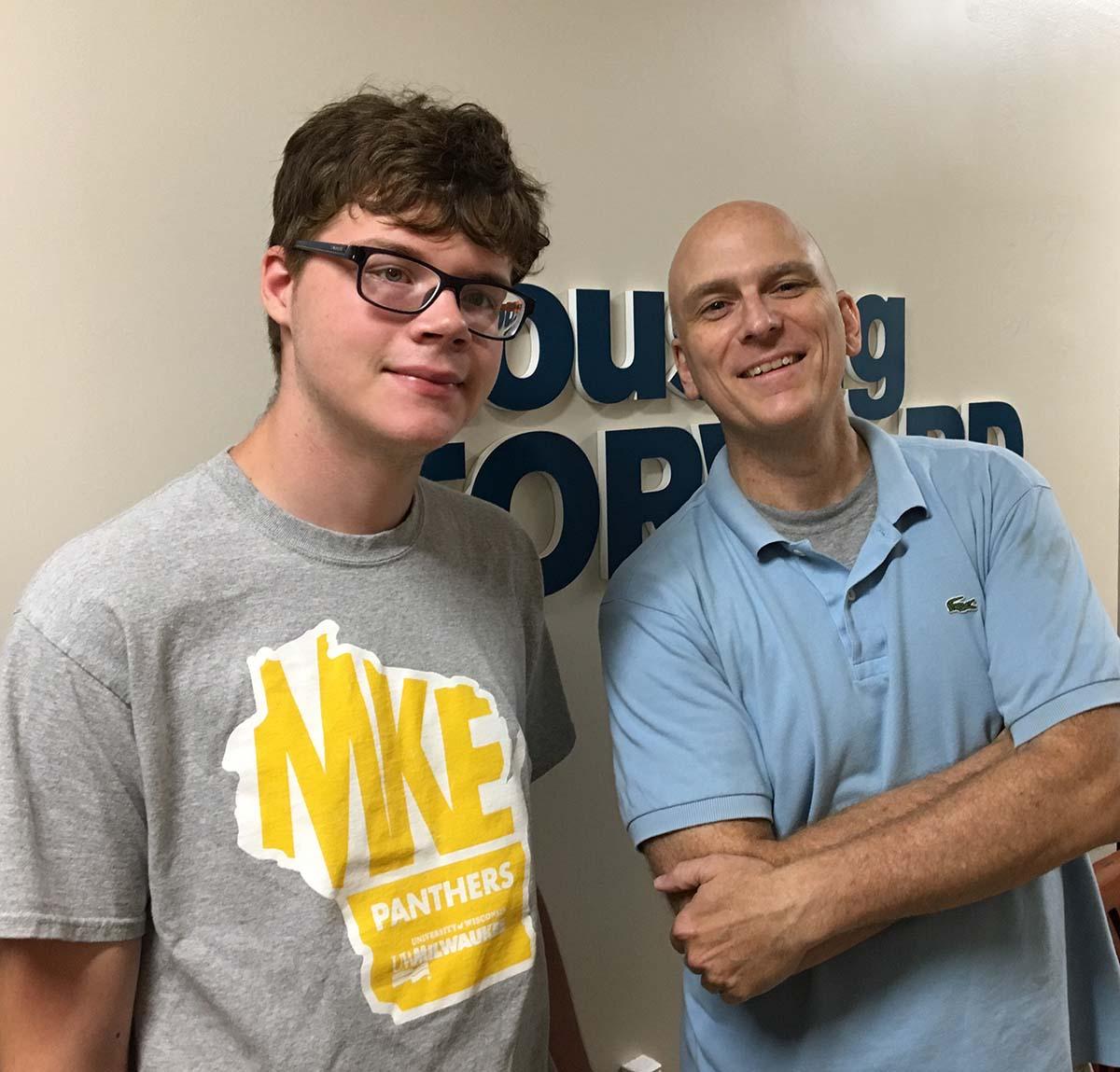 This is Edward (at left), one of the young people who volunteered their time around our office this summer. He's posing with David Flint (at right), our Monitoring, Compliance & Evaluation Manager, who he often worked alongside.
In the past, Edward volunteered at the PADS emergency shelter hosted by St. Christopher Episcopal Church in Oak Park during dinner shifts with the youth group and sometimes with his parents, who are also committed volunteers. 
When his parents saw a call that went out early in the season looking for help moving back into our permanent building, they suggested it to Edward as a short term assignment. "It is important to us that our children learn the value of reaching out to help others whenever they can," said Anna Crissold, Edward's mother. He thought it sounded like a good way to keep busy, although he admits sometimes he'd rather be playing Minecraft, Zelda or MarioKart video games.
As time went on, more tasks were found that needed doing so Edward kept coming back even after the move was complete. When asked what type of work he did for us, he said it was mostly "heavy lifting stuff" but he got used to it and didn't mind because "that was part of the job."
Edward's first impression of the Housing Forward offices wasn't that great--until he realized we were in the process of making repairs after both fire and flood damage. "The people are nice," he said.  "My favorite part was helping with the housing stuff given (to clients) when they are ready to move into a new place," he said. "I didn't know that many homeless people before I came here and now I understand that it's no one's fault. Usually there is some way to turn their life around so it can get better."
Armando Smith, Director of Operations & Client Services worked alongside Edward often on projects. "We are lucky and glad that Edward decided to spend part of his summer helping us move back into our offices. Edward was on the frontline in helping us move back into our offices."
Edward's parents report that they are proud of the work their son accomplished this summer; thankful to those who supported his volunteer efforts; and pleased that he took on a more active role in helping an organization whose mission their family values.
A senior at Oak Park and River Forest High School this fall, we hope Edward will be wearing his Housing Forward baseball hat around town. After experiencing first-hand more of what we do around here, he's a valuable ambassador of ours in the community. Still, we'll miss having him around here too.