Back to top
News
Spotlight on Laura Jordahl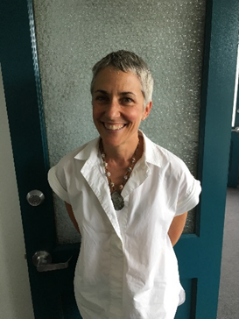 Volunteers supplement the important work of staff in delivering compassionate care and services to our clients. Housing Forward recognizes volunteers as "everyday heroes" who come from all walks of life, all ages, with something special to offer. This month we are spotlighting Laura Jordahl, a Short-Term Stability Services Volunteer.
A resident of Oak Park, Laura Jordahl, her husband Eric, and their family have been supporters of Housing Forward for nearly 20 years. Laura first learned about Housing Forward from her home church, St. Christopher's Episcopal in Oak Park, where she became a part of the PADS Shelter team. Laura attributes her motivation to give back to the leadership of St. Christopher's noting, "It is one of those churches in the community that is really committed to helping those in need and has created a safe space to help meet the basic needs of those in our community who are homeless."
Over the years, Laura has volunteered in various capacities. She first started as a PADS Shelter third shift volunteer where her duties were to arrive at 5:15 a.m., prepare and serve breakfast to PADS Shelter guests, clean up afterward and help everyone leave for the day – all within a 2 hour timeframe. Like all PADS Shelter sites, St. Christopher's is a donated space and other activities are scheduled there during the day. She recalls an instance when after leaving the PADS Shelter one morning in the middle of winter and she saw a client at a bus stop and thought to herself, "Where does one get warm on a cold Sunday morning?" She has also served as a PADS Shelter first shift volunteer, where she helped set up the site in Berwyn, laying down pads, pillows, blankets and linens and then serving dinner. She brought her teen-aged daughter along to help at the time. 
St. Christopher's is currently an "overflow" PADS Shelter site on the third and fourth Friday's of each month where Laura acts as Site Captain. She has also further used her talents as the project coordinator through funding from the Oak Park River Forest Community Foundation Future Philanthropists Program for Housing Forward's collaboration to develop educational kits by engaging approximately 100 students from D97 and the Mann School Student Council to be used by the children in the 10 rotating PADS Shelter sites and our Maywood Support Center. Laura also works several mornings of each week as a Short-Term Stability Services (STSS) volunteer.  This position has given her the opportunity to work directly with clients, documenting their needs while also offering effective solutions.
What Laura enjoys most about volunteering with Housing Forward is helping provide people with something so necessary: a place to sleep, a hot meal, and a brief moment of security. Laura also expresses that she wishes that providing shelter wasn't necessary to the point that it is. "Finding and obtaining affordable housing shouldn't be a challenge so many face, it should be a universal right," explains Laura.
Laura attributes her desire to volunteer and lend a helping hand from one of her favorite lyrics which says, "Pick yourself up, start all over again." She also believes that everyone deserves a second chance.
Housing Forward is proud to recognize Laura as one of our outstanding volunteers as she inevitably serves as a change agent in her community helping to support our mission. Thank you!