Back to top
News
Senior Corps Member continues to answer the call.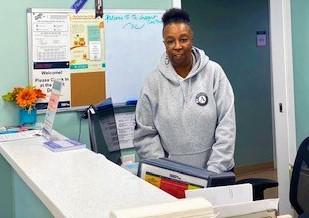 Etta Martin is serving her second year as a Senior Corps member with Housing Forward. She enthusiastically praises the organization and remains committed to serving its mission to transition people from housing crisis to housing stability.
 "Housing Forward is an inspiration to us all. The employees and volunteers are exceptional, therefore the connections we make are glad to be a part of our mission. I am in awe of the hardworking staff and I'm thankful for the privilege of being part of such a wonderful organization."
We count upon Etta, who has been called upon to help in a variety of ways during this very challenging time. Whether she is packing up meals, answering phones and emails, or delivering mail to clients, she has consistently fulfilled her AmeriCorps pledge to "get things done."
Housing Forward is thrilled to have Etta as part of our team. We appreciate her ongoing commitment to making a positive impact on the lives of our clients, and in the communities we serve. To learn more at www.nationalservice.gov/serve.