Back to top
News
Outreach Specialist Jennifer McWhorter Featured in HUD Newsletter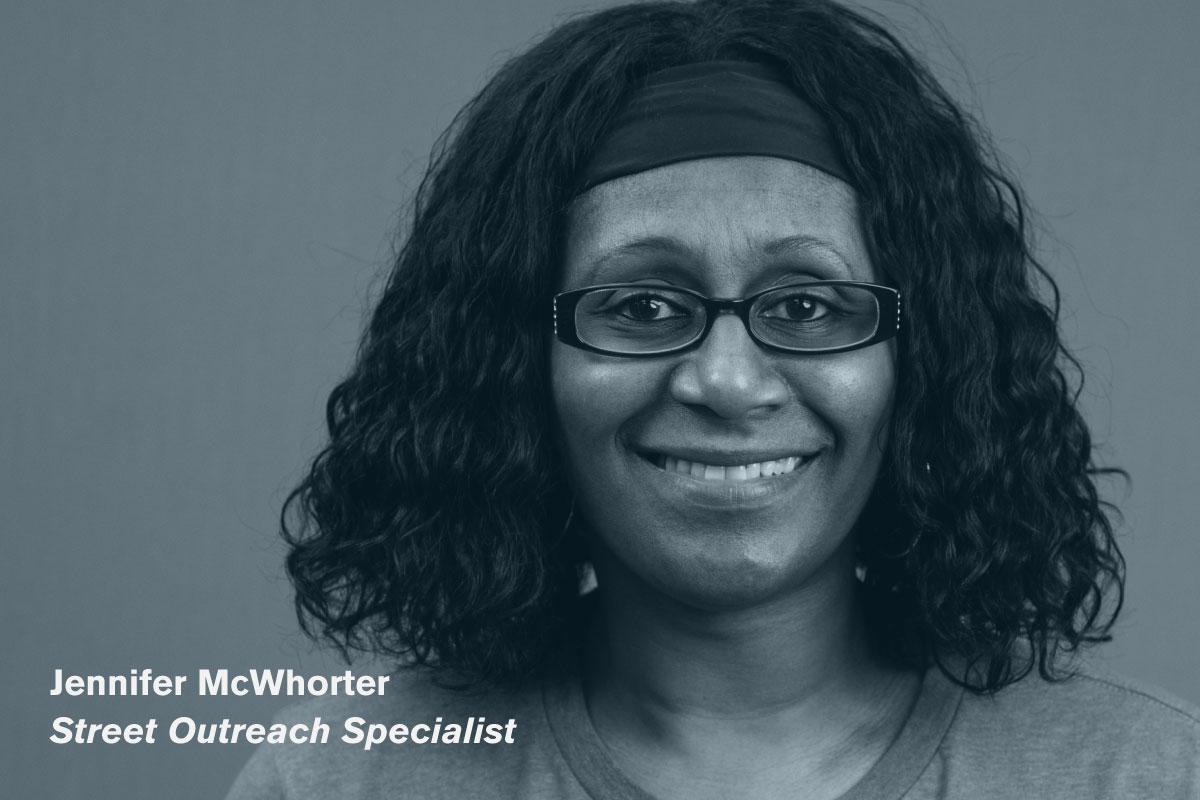 In their recent newsletter, the U.S. Department of Housing and Urban Development (HUD) Midwest Region Biweekly Newsletter, featured an article about our very own Jennifer McWhorter. In her introduction of the full newsletter, HUD regional administrator, Diane M. Shelley wrote, "Jennifer McWhorter [is] a street outreach specialist at Housing Forward, a nonprofit agency whose mission is to end homelessness. I recently participated in a [project] led by Ms. McWhorter and was extremely impressed by her dedication to serving the homeless population." Read the complete article below.
Housing is a Basic Human Right: Jennifer McWhorter, Street Outreach Specialist
Over a decade ago, Jennifer McWhorter was a new college graduate in search of creative opportunities to strengthen her professional career while paying off student loans. That's when she stumbled across AmeriCorps, which provided a promising way for her to do both. AmeriCorps provides opportunities for individuals to serve with more than 2,000 organizations that are making a difference in communities across America. Jennifer had no idea at the time that that experience would be the catalyst for her entire career path. Her first assignment through AmeriCorps was with Housing Forward, a nonprofit organization that focuses on ending homelessness through impactful services and strategic partnerships.
Having experienced homelessness as a child and carrying those memories into her adult life, Jennifer was able to immediately identify with Housing Forward's mission, and her calling grew increasingly evident through the course of her 11-month rotation with the organization. In the end, Housing Forward offered Jennifer a permanent position as a street outreach specialist in their Maywood, Illinois office and she continues in that role today.
"No two days are exactly alike,: says Jennifer. "After a brief check-in at the office, I start making my rounds and each day unfolds based on whatever I encounter out in the streets."
Jennifer visits places where people who are homeless would likely go for temporary shelter such as libraries, abandoned buildings, parks, emergency rooms, laundromats (a wintertime favorite), malls, liquor stores, and the police station. Along the way, she might engage with families, children, homeless encampments, and t hose in need of mental health services or a range of other scenarios. Jennifer makes sure to stay stocked with necessities that can be of great use for survival out on the streets, such as food, water, clothes, and blankets. Additionally, Dunkin' Donuts and McDonald's gift cards are a popular treat that also serve as great conversation starters.
"You would be surprised at how far a small gesture such as offering someone a conversation over a hot cup of coffee can go toward making a person feel human," says Jennifer. "Imagine being ignored, rejected, and mistreated everyday as you wander the streets—in all kinds of weather conditions—in search of the basic shelter than so many people take for granted."
Another critical component of Jennifer's work is to determine a person's immediate safety needs, establishing a rapport through thoughtful and honest intervention, while reducing harm to them as well as to herself. As part of that effort, she has worked closely with the City of Northlake Police Department, which has been a full supporter of Housing Forward's mission and is willing to be on standby whenever Jennifer alerts them of a potentially dangerous situation, such as the time she once entered an abandoned building in search of a young woman who was reportedly living inside with an infant child. Impressed with Jennifer's overall dedication to her work and her role in a particular incident where she was able to make a meaningful connection with a repeat offender—who admittedly was using the criminal justice system as a means of survival as it provided a "shelter" of sorts—the Northlake Police Department presented Jennifer with a heartfelt award letter signed by the chief of police.
Housing Forward's long-term goal is to help homeless people find permanent shelter and connect them with services and resources that can start them down the path to a better quality of life. But Jennifer concedes that this can be an extremely long process for many homeless people. She reflects on one woman that she helped who had extreme trust issues as many homeless people do. "It took a full year before she would even give me her last name," she adds.
Along with holding degrees in criminology and organizational management, Jennifer has over 15 years of business experience, including case management and social work practice with high-risk populations such as those with ongoing health issues, including HIV/AIDS, hepatitis C, and cancer. As for her future in this work, she hopes to create opportunities to explore the real estate side of things.
"There are vacant buildings across so many neighborhoods that could be purchased, repaired, and made available for those who are living on the streets," says Jennifer. "Having a decent place to sleep each night should not be a luxury."