Back to top
News
Making a Withdrawal at the Chicago Furniture Bank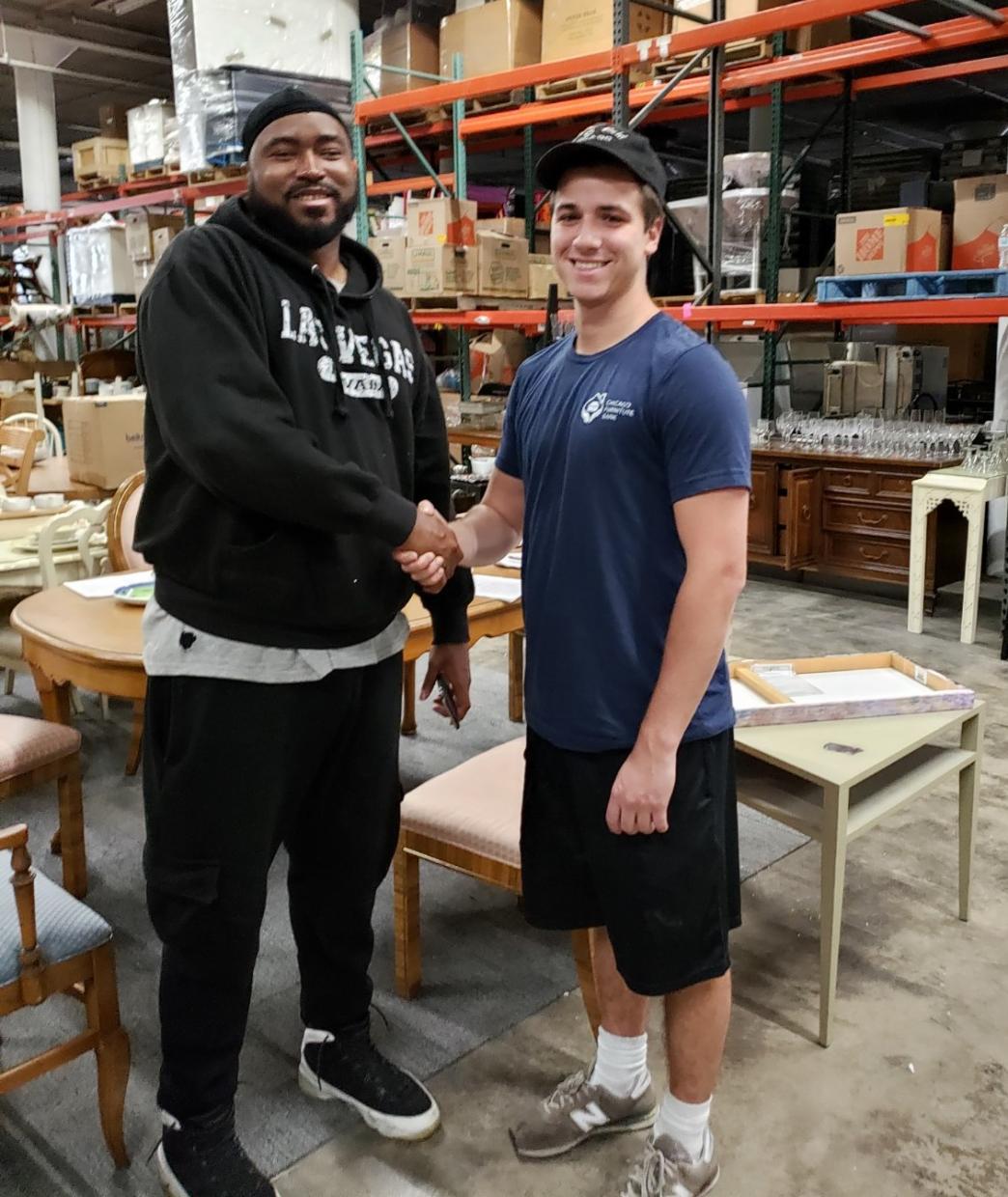 In late September, Alexis Singleton, a Housing Forward Rapid Rehousing case manager, was the first from our agency to visit the west side Chicago Furniture Bank. She brought her client Cordello, who is about to move into his new apartment.
Together with partner organizations like Housing Forward, the Chicago Furniture Bank offers reasonably priced complete furnishing packages that turn empty apartments into inviting homes for those in need.
When they arrived, Alexis and Cordello were greeted by Griffin Amdur, one of the bank's trio of founders, who immediately made them feel welcome, showed them around and explained the process.
The idea for the non-profit—the first furniture bank in the Chicago area—started in the summer of 2017 during a visit with Griffin's grandfather here in the Chicago area. After realizing seniors and down-sizers had gently used furniture they no longer needed, he started piecing together a plan with college friends to collect and redistribute it to families and individuals transitioning to subsidized housing.
The warehouse became a reality one year later when the team won the University of Pennsylvania President's Engagement Prize, and with it an award of $100,000 in funding for Penn seniors who design and undertake post-graduation projects that make a positive, lasting difference in the world. It was conceived and is now run by those same three recent graduates of The Wharton School at the University of Pennsylvania; Griffin, who grew up in a Chicago suburb, James McPhail, and Andrew Witherspoon.
The Chicago Furniture Bank serves referred clients from partnered non-profit organizations primarily women and children facing domestic violence, recovering addicts and the formerly homeless.  
Its goal is to fully furnish as many homes as possible by bringing in the client themselves to handpick furnishing packages which include a bed frame, box spring, mattress, couch, loveseat, table, chairs, dishware, and artwork. By recycling household items, value is created in three ways:
Furnish homes for underprivileged individuals and families
Provide a convenient and inexpensive service for people to donate their used household belongings 
Reduce the amount of furniture and other goods that are dumped into landfills
To make the enterprise viable, they ask for a $75 donation for gently used furniture they pick up. Hiring a junk service costs far more—and the furniture is usually trashed. They also offer curbside delivery for $150. The Chicago Furniture Bank increases home retention rates, eases the often difficult transition to a new living situation, and reduces the cost of moving. 
For now, it's mostly the three of them doing much of the work to make their business model successful both financially and altruistically, but they plan to grow in number of staff and more volunteers. The warehouse operates on an appointment-only basis with no walk-ins.
After some searching, Cordello picked out a sofa, chair with ottoman, ironing board, dresser, artwork, an area rug and lamps. After the experience he said actually choosing things for his new place made it seem even more real. His furniture was delivered on move-in day and looks great.
To find out more, go to www.chicagofurniturebank.org.