Back to top
News
Housing Forward Announces 2015-2016 Board of Directors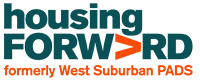 Housing Forward today announced the appointment of five new members to its Board of Directors and the retirement of four members.
The new Board members are:
• John Ciancanelli, Navigant Consulting
• Steven Glass, Cook County Health & Hospitals System
• Jane Houle, 1st Choice Advisors
• Tony Mitchell, Chicago Council on Global Affairs
• Heidi Vance, Team Blonde & Counter Coffee
Members who will continue their terms on the Board of Directors are Sallie Smylie (President), Joan Kurtenbach (Vice President), Henry Fulkerson (Treasurer), Chris Mickens (Secretary), Marcia Ashton, Kathleen Clark, Jonathan Gilfillan, Gloria Groom, Aaron Lebovitz, Barrington Lopez, Andrew Maychruk, Otto Miller, Steve Narsutis, Bill Nolan, Rick Pollock, Jason Smith, Samuel Stanovich and Gardi Wilks.
"The installation of our 2015-2016 Board of Directors ensures we will continue to benefit from the diversity of experience and perspectives that has characterized our board for the past 23 years," said President Sallie Smylie. "These board members have made an impressive commitment to helping solve homelessness. We look forward to an exciting and productive year."
Members who have completed their Board terms are Jenifer Fabian, Sandra Gates, Tony Padgett and Sally Prescott.