Back to top
News
Got questions? We have answers.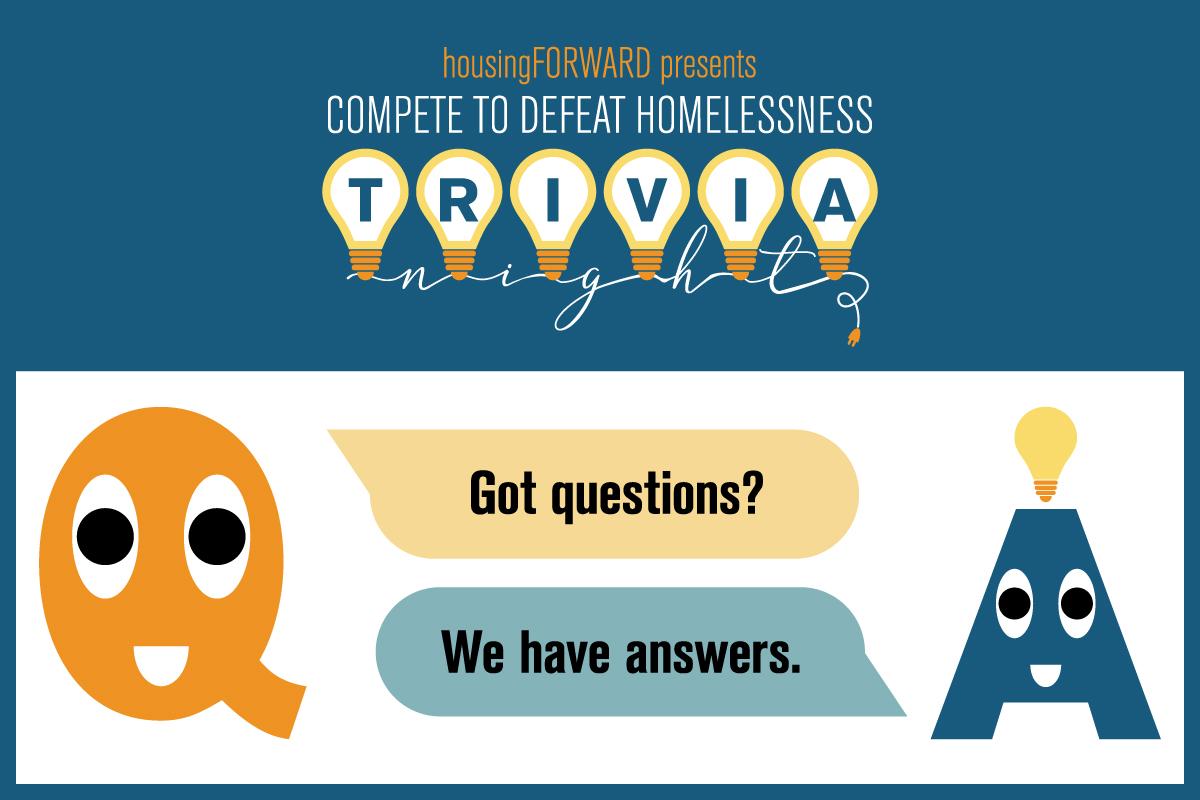 Ticket sales are still open for our 2023 Compete to Defeat Homelessness Trivia Night!

Gather your team of 6 for a competition you'll remember. Our Compete to Defeat Homelessness Trivia Night is taking place on Thursday, August 24 at 7pm at Fitzgerald's in Berwyn. When you register, you help benefit our work to end homelessness in west suburban Cook County. Register here!
---
Below are some frequently asked questions people have about trivia, and we have answers!
Q: How does the Compete to Defeat Homelessness Trivia Night work?
A: You and up to 5 friends will compete against other teams in several rounds of questions. The goal is to gain the most points, either by having the most correct answers, or purchasing and using advantages effectively!
Q: Do I need to sign up with a full team?
A: Nope! You can sign up as an individual and ask to be placed on an open team, or purchase a team and submit your teammates' names closer to the event. Reach out to Sarah at scatalano@housingforward.org to edit your teammates or Team Name!
Q: Do I need to have a team name?
A: Not technically, but there will be prizes handed out for the team with the best name, the team with the best costumes, and the team with the most spirit, so why not have fun with it!?
Q: How many rounds of trivia questions will there be?
A: There are five rounds including a picture round and an identification round.
Q: What are advantages?
A: There are three types of advantages you can buy to get an edge over the other teams: Double Points, Double Chance, and Skip. Double Points guarantees double the wagered value for a correct answer. Double Chances mean that you can put down two answers and get the points wagered if either answer is correct – for when your team can't agree. Skips earn your team full points for a question without having to answer at all. Make sure to use them wisely!
---
Want to join in on the fun? Register here!
Keep up to date on our upcoming trivia night at https://www.housingforward.org/events/trivia
Thanks to our presenting sponsor, Coldwell Banker.