Back to top
News
The Children's School: Teaching Social Justice By Example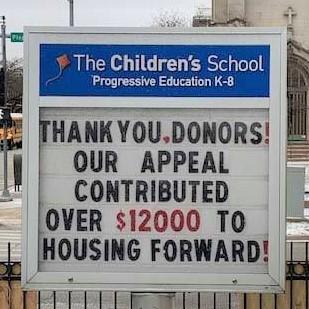 For several years, The Children's School family has given generously to Housing Forward by packing hundreds of lunches for our clients. They do this because a large part of the school's philosophy centers around a commitment to social justice and caring participation in their wider community. Because Covid-19 curtailed many of their regular volunteer activities, the school decided to continue honoring the critical work we do by sharing with us donations made during their annual fundraising appeal. This effort kicked off on Giving Tuesday last December when they pledged to give Housing Forward half of every dollar raised.
We are amazed to learn that the final amount earmarked for our agency is a whopping $12,000. This generous gift will greatly help us to prevent homelessness, respond to homelessness and stabilize our clients to end their homelessness.
The Children's School, formerly located in Berwyn and now at the St. Edmund's parish school building in Oak Park, offers a progressive curriculum at includes an emphasis on social justice, equity, and inclusion. Students gain hands-on experience in exploring ways in which every member of a community can access the resources they need to thrive. This aligns perfectly with the work we do at Housing Forward so we proud and deeply grateful to be working together in this unique partnership with students, families, Housing Forward, and our community!