Back to top
News
Our Groundbreaking Ceremony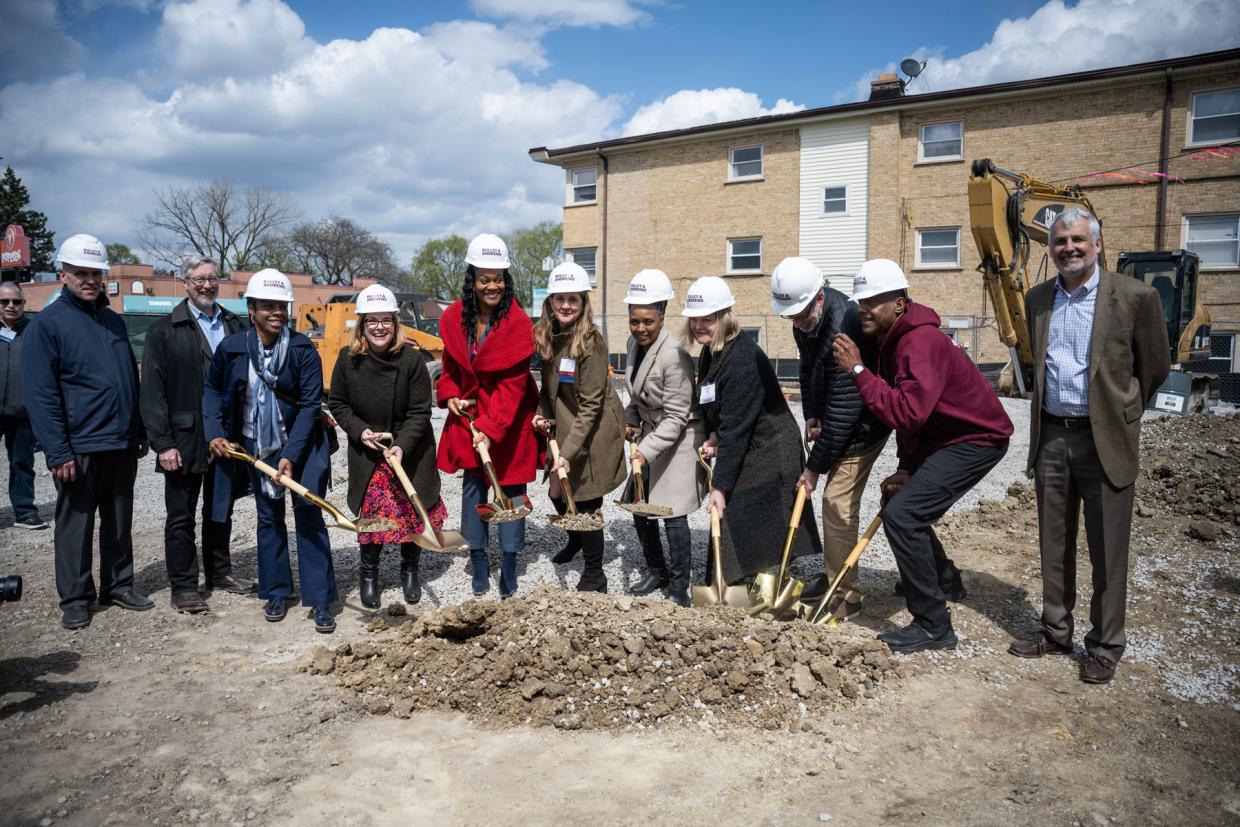 On Monday, April 24, Housing Forward broke ground on a new Permanent Supportive Housing development which will create 16 units of housing to serve individuals and families who are homeless or at risk of homelessness and have a long-term disabling condition. This residential building includes dedicated units for veterans and youth aging out of DCFS care.
Special guests Village of Broadview mayor Katrina Thompson, Senate Majority Leader Kimberly Lightford, and Amy Lee from Illinois Housing Development Authority joined our staff, board members, and major project partners gathered at the construction site, located in the Village of Broadview, for this groundbreaking ceremony. Senator Kimberly Lightford and Village of Broadview mayor Katrina Thompson shared a few words to the audience about their support for the development.
"Broadview prides itself on being an inclusive community and we are thrilled to welcome this permanent supportive housing project," said Mayor Katrina Thompson. "This is a new project for the village, but the circumstances are not different. More and more individuals and families are living paycheck to paycheck. This project will provide the necessary assistance to provide stability and keep families together, which so important and why I'm lending my support."
"Housing is the basis of stability for an individual or family. A home should be the center of our social, emotional, and sometimes economic lives — a place to live in peace, security, and dignity," said Senate Majority Leader Kimberly A. Lightford. "Together, we are bringing housing resources to the area to help our neighbors who are experiencing housing crisis find the stability and security they deserve."
This project marks the our first venture into developing and owning a site-based residential building. The three-story, mixed-use development will include four two-bedroom units for families and 12 one-bedroom units for individuals, with additional common space for tenants. Four of the units will be handicapped accessible and one will be designed to accommodate sensory, hearing, and visually impaired individuals. The property will also include an outdoor terrace and community garden and is accessible to public transportation and area amenities.
We thank our funding partners, Illinois Housing Development Authority, Housing Authority of Cook County, BMO Harris Bank, Illinois Department of Healthcare and Family Services, Wheaton Franciscan Sisters, Senator Kimberly Lightford, JCUA, FHL Bank Chicago, Westlake Health Foundation, ComEd, & the Montgomery Ward Foundation.