Back to top
News
My Experience as an AmeriCorps Service Member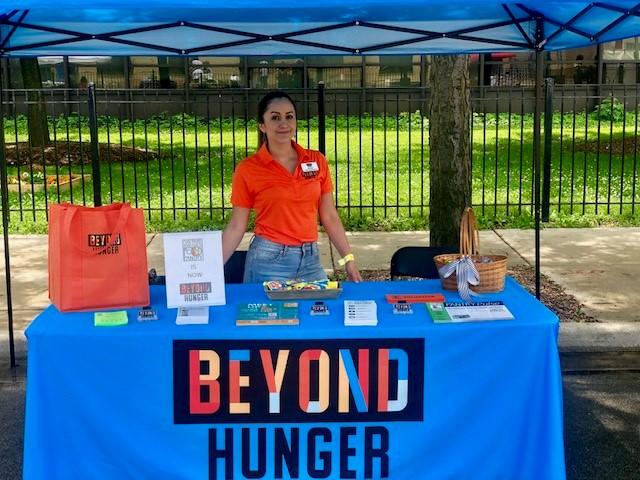 This past year, Housing Forward partnered with Beds Plus in LaGrange and Beyond Hunger (formerly the Oak Park and River Forest Food Pantry) to recruit and place twelve AmeriCorps members among the 3 agencies in a variety of year-long engagements to improve lives and foster civic engagement. The following article was shared by Anita Davila following her service learning year as Nutrition Program Assistant at Beyond Hunger.
---
As my service year as an AmeriCorps member has come to an end, I reflect on my experience at Beyond Hunger – one of Housing Forward's partner agencies. In short, I had a great time serving at an amazing organization, for a great cause, and alongside great people, but indulge me while I share the details.
Beyond Hunger - formerly the Oak Park River Forest Food Pantry, provides programs and services ranging from food assistance, nutrition education, connection to social benefits, delivery of groceries to homebound seniors, meals to children over the summer, to rescuing tons of good food from going to waste. Although it started as a small food pantry, it has grown to be an amazing, well-structured and complex hunger-relief nonprofit organization. Its mission, "harnessing the power of communities to end hunger", is at the core of their work from the day-to-day decisions to their strategic planning. Beyond hunger recently changed its name to better reflect the communities they serve through 13 zip codes including Chicago and Suburban Cook County.
Each year, via their partnership with Housing Forward, Beyond Hunger hosts two to three AmeriCorps members to "get things done". In my role as Nutrition Program Assistant I was the go-to person to assist the programs manager with two of the five programs she manages, Home Delivery and Summer Meals. Home Delivery was my favorite and what encompassed most of my time. Once a month, Beyond Hunger delivers groceries from the pantry to homebound seniors and disabled adults in Oak Park and the Austin neighborhood of Chicago. Accomplishing this once a month is easier said than done. Many tasks need to be completed from the planning stage, to the execution, to the management of data to asses the impact of the program. Each month, about 40 volunteers donate their time to make this program possible: from calling our clients to allow them to choose the items they want to receive, to bagging 40-60 pounds of food into hundreds of insulated bags, to driving and delivering the groceries right to the doors of clients. My role involved me in every step of the many processes: I made calls to several of the older adults enrolled in the program, I created a monthly menu based on the foods received from the Greater Chicago Food Depository, I unloaded and bagged thousands of pounds of fresh produce, and more. My favorite moments were meeting the clients in person while delivering their food. The feeling of accomplishment knowing that what we are doing is meaningful and appreciated, is very rewarding.
Summer Meals was another great experience for me. This program provides free meals to children who do not have access to them during the summer months while school is out.  This is another complex program that includes partnerships with the local school districts, independently-ran summer camps, and congregations. The most challenging aspect of Summer Meals was managing our Meet Up & Eat Up site which was open to all children 18 years old and under who could stop by to receive a free meal and stay for programming and fun activities. My role was to oversee the day-to-day of this summer-long program and to manage the interns who staffed it, which required me to use and develop my organizational and leadership skills. This was an invaluable experience. Altogether this year, via all the different sites, we doubled the amount of meals provided last summer, from 11,000 to 23,000; this was a huge accomplishment. Summer Meals targets a specific pocket of hunger in the community; as a mother of three children, I can deeply understand the impact that this program makes.  It is amazing to witness the work that can be done when stakeholders come together to address a need in their community.
During my interview at Housing Forward for this position I was asked, "Are you ready for the challenge?" I of course said yes. Little did I know at the time that my service year would become not only a challenge but a life-changing experience. Although food insecurity and community health had been on my radar during my undergraduate studies in nutrition, I would have never been able to witness first-hand the impact that nonprofit organizations, such as Beyond Hunger, make to relieve food insecurity and address social determinants of health, had I not been a part of the effort through my AmeriCorps service. The valuable work experience, the meaningful skills I gained and developed, and the exposure I got to the nonprofit world will be something that I will take with me into my future career. I will cherish this for years and years to come and am extremely grateful for this great experience. ~ Anita Davila
---
To learn more about the AmeriCorps Program in general, click here and for information about our positions, contact us at volunteers@housingforward.org or 708.338.1724.