Back to top
Wraparound services provide personalized support to individuals and families to help them address a variety of complex issues and challenges that may interfere with long-term housing stability.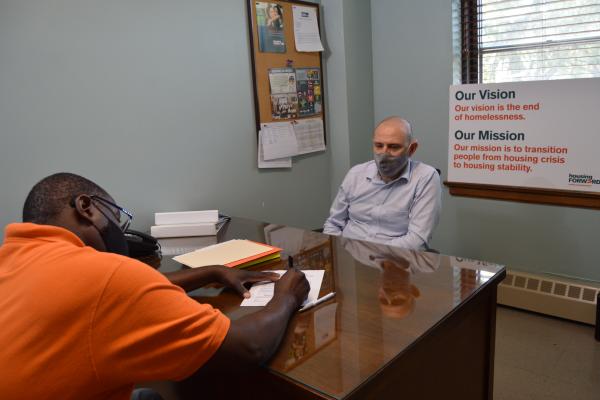 Wraparound Services
The Wraparound Team is a group of specialists in areas that impact the lives of individuals and families we assist. Team members collaborate with case managers to provide clients the support needed to address issues that can impede housing stability. The team includes a behavioral health specialist, a community health nurse, family support specialists, employment specialists, and substance use case managers among others. 
Employment Services support clients in gaining employment and reliable income. Our range of services helps clients build the skills they need to secure employment and succeed on the job. We help some clients overcome obstacles to employment through job readiness training paired with case management services. We also offer paid, on-the-job skill development and support. Clients with a work history receive career coaching and job search strategies. 
Families in Transition Services provide the support families need to transition from crisis to housing stability as quickly as possible. A family-centered approach addresses the complex needs of parents with minor children and helps them navigate the maze of school, government, and social services which are important steps to building a path to housing stability. 
Legal Clinic provides pro-bono legal services to support clients in resolving problems such as evictions, criminal records expungement, immigration status, family law, and other issues. We partner with Greater Chicago Legal Clinic to provide Clinic services. Their attorneys work with clients and their case managers on a case-by-case basis.  
Medical Clinic empowers clients to take care of their health and well-being and build a personal healthcare routine. Offered weekly, the Clinic offers clients basic information about health, checks vital statistics, and offers an opportunity to talk to medical professionals about questions, concerns, and medications. Clinic services are provided by residents from Loyola University Stritch School of Medicine and our community health nurse.