Back to top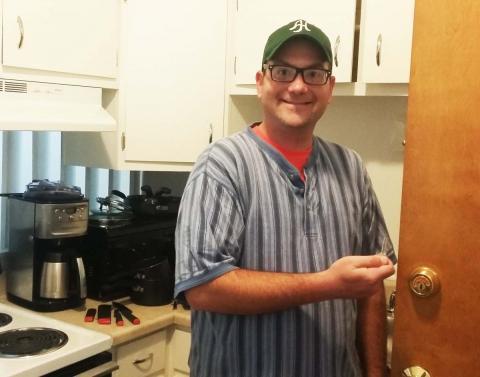 Adar
Adar is finally stably housed after living under bridges, in stranger's cars, on sidewalks, in doorways, in woods and at times couch surfing for almost 3 years. After being homelessness once before, Adar had made a promise to himself to stay on the straight and narrow to avoid being in that position ever again. He had a steady job as massage therapist, a car and an apartment, but after a break-up depression hit. He wanted be a "normal guy" but things fell apart.
When he realized his life was not coming together as he'd hoped, Adar decided to live his dream, and discover his talents while traveling. Around that same time he also learned he was going to be father. Traveling did not go well. He attempted several trips but something always went wrong. He had interactions with law enforcement while on the road, and was given a psychiatric evaluation. With no insurance or medical coverage, help was limited and Adar soon found himself on the street again. At times he stayed with an uncle but they often argued. Eventually a friend took him to a housing agency in the northwest suburbs, which was a turning point.  A caseworker there connected him with Housing Forward and he has recently moved into Open Door Housing. His new place was especially welcoming thanks to items from a House to Home Kit collected by our generous supporters. He is looking forward to a visit from his daughter, and has plans to connect with a job specialist through our Career Passport program for help discovering his true calling. Adar says, "Sometimes a person has to suffer a breakdown before they can have a breakthrough." We look forward to seeing how his new life unfolds.
Sometimes a person has to suffer a breakdown before they can have a breakthrough.