Back to top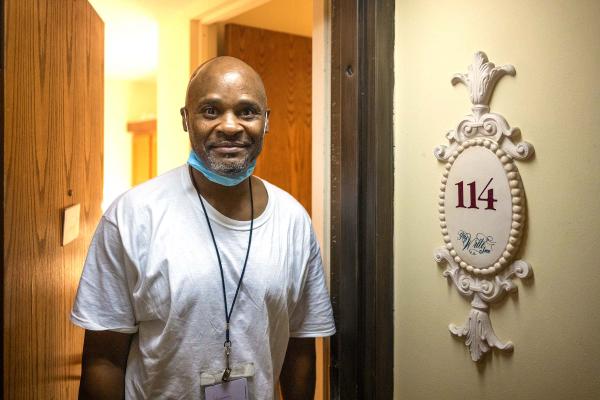 Interim Housing
The Interim Housing Program provides private accommodations to individuals and families experiencing homelessness. In the course of their 90-day stay, we assist clients to achieve a more permanent housing destination and end their homelessness as soon as possible. Structured programming includes intake and assessment, housing-oriented wrap-around services, case management, pre-tenancy services, on-site health assessments, and income supports either through employment and/or entitlement benefit support. Housing Forward maintains three distinct interim housing facilities totaling 70 beds.
As a response to the COVID-19 crisis, we launched a 65-bed hotel-based program which includes three floors of interim housing. The first floor of this facility is Medical Respite Center, provided in partnership with Cook County Health, which serves individuals who have been discharged from the hospital and need stable housing in order to recuperate and avoid readmission.
Sojourner House also provides interim housing and medical respite and is intended for individuals with disabilities and families with minor children. It is the first of its kind in west suburban Cook County, and is a public-private partnership between Housing Forward, the Oak Park Housing Authority, the Village of Oak Park, and MacNeal Hospital/Loyola Medicine.
Ohana House is an interim housing site created specifically for families with minor children. The property has three apartment units which can house up to six people.  It sits a large lot with an ample backyard, providing a perfect place for growing children to play.