Back to top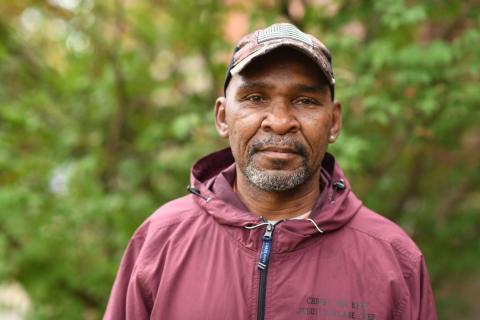 Ronald
If you shop at the Oak Park Target store, you may recognize Ronald. That was his regular spot when he lived on the street. It's where Danette, a member of our Street Outreach Team, got to know Ronald, before referring him to our new Interim Housing Program.
The COVID-19 pandemic added new challenges for people experiencing homelessness. The shelter-in-place order and closures have made life even more of a struggle. To respond quickly, Housing Forward moved away from the PADS Emergency Shelter model as the congregate setting made social distancing challenging. We shifted to temporary individual accommodations in local motels, where clients could stay 24/7.
As colder weather approached, Housing Forward took the bold step of signing a 12-month lease for the 65-bed Write Inn hotel as an Interim Housing site. The location and accommodations are ideal for a program model offering a temporary place for people to stabilize while seeking housing as soon as possible.
After a screening and assessment, Ronald entered the program and his team immediately focused on making connections to resources. His stay will not be long-term but is an opportunity to regain his bearings and participate in structured programming with the goal of permanent housing. 
After securing a temporary job with the board of elections, Ronald enrolled in our employment program, and is working with his case manager to find an apartment. "I'm so proud of the positive steps Ronald has been making," said Danette. "We believe in him and know he will keep on winning."
To learn more visit www.housingforward.org
I'm so proud of the positive steps Ronald has been making. We believe in him and know he will keep on winning." ~Dannette Kennedy-Salaam, Diversion & Outreach Specialist