Back to top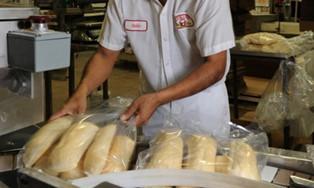 P.J.
P.J. came to shelter in November of 2019. This was his first experience of homelessness and he really needed a place to stay. A recent divorce and loss of employment landed him on our doorstep.
After getting into shelter, P.J. showed his appreciation by always being helpful and polite. He quickly became known as someone who offered to help other shelter clients, volunteers, and staff. Each night he cleaned tables and floors, took out garbage, and could be counted upon to assist in any way.
When shelter operations changed to a 24/7 model due to COVID-19 concerns, this client continued to always be busy and willing to help. After the agency moved our clients into hotels after the shelter in place order, P.J. continued with his helpful ways on a daily basis--picking up trash and delivering meals to the hotels 7 days a week. He was always willing to pitch in. "It's just who he is," commented one of our staff members.
While staying in the hotel, P.J. met with our Employment Specialists to update and submit his resume, which was forwarded to Turano Baking Company in Berwyn. Following a successful interview, he was hired. After passing background and drug tests, he was on the job the next day.
P.J. went from experiencing homelessness to being employed in 2 days. Working full time now, he earns more than $24 hourly and is currently a resident at our new Interim Housing Program while he waits for a permanent housing referral. He reports that "life keeps getting better and better."
Life keeps getting better and better.